Electrical Planning – General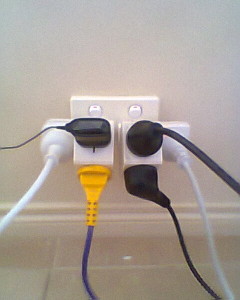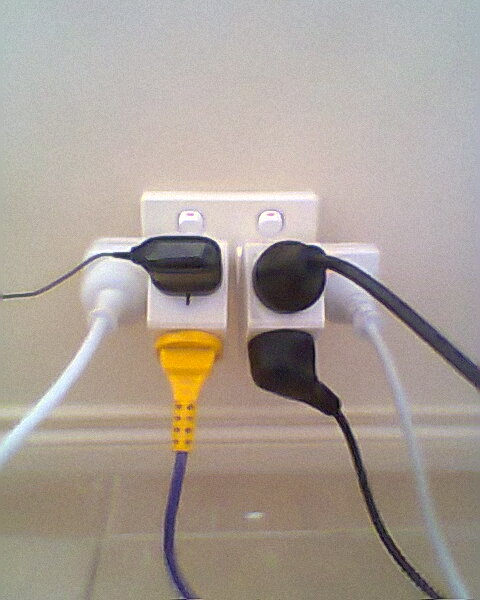 Do some of your power sockets look like this photo?
Next time you visit a show house have a look at the power point provision……… You would think most builders are still living in the 1950's.
Typically you get a couple of double sockets in each room. . . . Sometimes you even see single sockets.
They do spend a bit more time on the light fittings, typically with down-light's everywhere. (Not my favorite form of lighting. I've had them once and I won't be having them again.)
The down-lights are unlikely to be in the builders standard provision so if you do like them they will add significantly to the cost.
In our first house, 30 years ago, when we renovated we had at least six double sockets in the lounge, main bedroom and kitchen. It seemed a lot when we put them in but most of them were used.
For the last two houses we have practically doubled the power point provision to make it easier to find a vacant power socket when you need it, and avoid having extension cords around the house.
You will find a number of posts on Electrical Planning which provide some thoughts for planning each of the main rooms in the house.
These will help you think about what electrical work you will require when building a new house, and help you prepare for the Selection Meeting.
Although you will have gathered I am keen on upgrading the electrical provision its worth remembering each additional double socket will cost around $75. We had an extra 22 at our last house so make sure you don't bust your budget!>
More Electrical Planning including 24 pages of Check Lists in the