Starting House Design 2 – Bubble Diagram 2
Once you have a basic bubble diagram you can then start to develop it by:
Drawing Circulation Routes
Think about your block how will people approach the front door.
What rooms do you want to overlook approaching visitors.
Where do visitors enter the house?
How do you expect people to move from room to room?
How will people move through the house?
Organising Spaces
What kind of entrance do you want and how formal you want it.
Do you want the kitchen and dining area linked or separate.
Do you want a separate WIR and En-suite or walk through one to get to the other.
Should the family room and the rumpus room be separated from each other or be next to one another.
How much space do you need? . . A lot of people have trouble relating space to a floor plan…..See These Hints to get some help
Use Scenarios
When discussing the plans talk through 'Use Scenarios' for example:
Cooking a meal while talking to the children.
Children doing homework
Watching different TV programs in different rooms
Family meals
Having visitors round for a meal
Bringing the shopping home
Doing the laundry
This is what  I came up with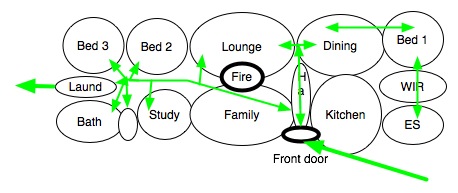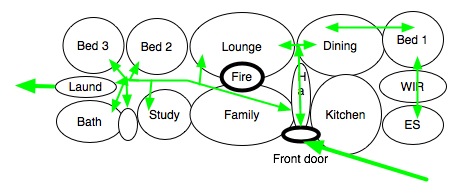 Post 3, in this series, will show how this diagram was developed into a final layout
For more Posts about Design see Floor Plans