I've previously posted about the importance of Drainage Behind a Retaining Wall to minimise the forces acting on the wall…. here is some advice on how to make sure it works.
The first thing to consider is this is drainage of the water in the soil. You should aim to properly drain surface water away from the wall.
There are two sorts of retaining walls as far as drainage is concerned:
Permeable Walls – The water can flow through the face of the wall.
Impermeable Walls – The water is unable to flow through the face of the wall.
Permeable Walls
Examples of permeable walls are:
With permeable walls the water should seep out anywhere on the face.You still need to put a drainage layer behind the walls. This will ensure that there is a clear path to the seepage points and that any dirt is filtered out rather than staining the face of the wall. It can be worth using a drainage pipe behind the wall as extra security against water pressure building up.
Impermeable Walls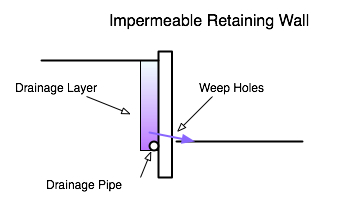 Examples of impermeable walls are:
Reinforced concrete walls

.

Block Work or Brickwork Walls (see this link: Besser Brick Walls)
Sleeper walls…. With a plastic backing.
With these walls you need to make special provision for drainage.
Either:
Weep holes which are specially constructed holes through the structure at 1m, or less, spacing.
or
Drainage Layer
For the drainage layer I would recommend  at least 100mm of 10mm or smaller gravel.
If you are going to have a pipe the width of the drainage layer should be 50-100mm greater than the pipe diameter.
Use this construction and I don't think a geotextile is required.
For responsibility for Boundary Retaining Walls see Fairness