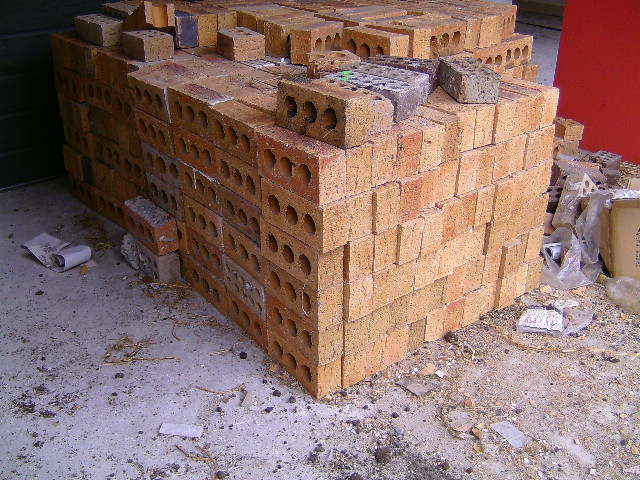 Usually builders over order bricks. This is to ensure that all the bricks come from the same batch and there is no problem colour matching. (Each batch of bricks manufactured should be consistent within the batch, but will vary from batch to batch).
Some of the extra bricks may be used by the brickies cutting bricks, but there is usually lots of intact bricks left over that you could use for:
Path edging;
Brick planter boxes; or
Building a barby.
So whats the situation when it comes to getting those bricks?……………
Well for most house contracts you are paying for the completed walls not the actual bricks so the bricks are really owned by the builder.
In practice if there are complete packs/pallets of bricks the builder will probably want to take them off site for reuse. The reuse is typically for houses or fences that are going to be rendered.
For packs that have been opened its normally 'too hard' for the builder to load the bricks by hand so they go off to the tip during the clearance.
If you want the bricks the best thing to do is speak to the Site Supervisor. If you have a good relationship the SS may allow you to collect and stack the bricks somewhere on the site and make sure they are left there for you to use once you have moved in.
What did you use any leftover bricks for?
For similar posts see Garden