I have previously posted about the relatively small heat loss from a slab on ground
But what if you have got in slab heating, or just want to minimise heat loss/gain from your house?
Before Construction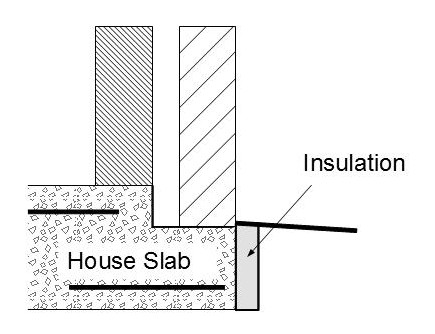 This sketch shows the placement of the insulation, if you can arrange for the builder to install it before construction.
The way this is installed is the insulation foam is installed inside the slab formwork.
A 40mm foam board with an R value of 1.0 will typically reduce the heat loss from the slab by 50%.
If you have a small builder or are having a custom home built this should be possible……some project builders however will probably be unwilling to do this installation.
After Construction
If you want to insulate after construction this detail is as effective as the previous method.
It works by using the soil as insulation.
Although soil is not a great insulator by stopping the heat escaping upwards 1m of  soil will provide a R value around 1.
See Insulation for similar Posts
For Posts about Green Building see Sustainability