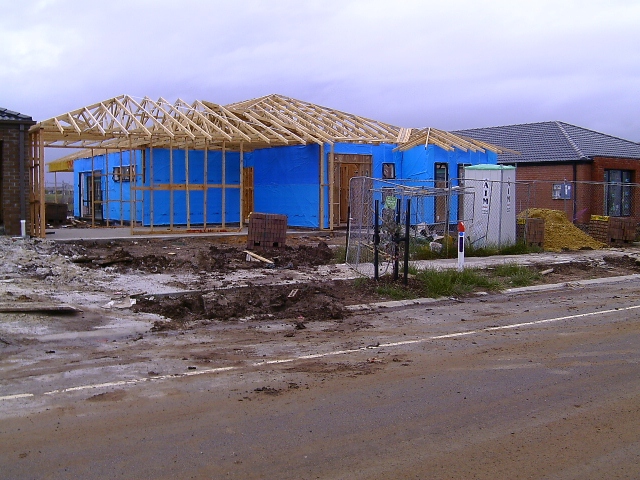 Brick veneer is probably the most common method of construction in Australia.
However if you live in Western Australia you will find Double Brick is more popular in that state.
Although brick veneer is the usual term these comments will apply to all 'Masonry Veneer' construction which includes external walls of:
Brick.
Block work. including Light block such as Hebel.
Rendered brick / blocks.
Stone.
A Masonry veneer structure has two main components:
The Frame. Can be either Timber or Steel. This is the main structural component of the house supporting the roof, and if required the upper floor. This is usually 'wrapped' as in photo above.
The Masonry Veneer. Although this looks solid it really only supports itself, and relies on ties to the frame to keep it stable. It provides a weatherproof 'skin' to the building.
So Why
Gives a solid look to the house.
Lower cost than solid brick
The prefabricated frame allows the frame to be erected quickly allowing the builder to get the structure weatherproof.
Easy to insulate.
Lightweight internal construction which means it can be cooled or heated up quickly when you get home.
Relatively easy to make internal alterations at a later date.
Better able to deal with soil movement in ground conditions such as Clay Soils.
Problems with Brick Veneer:
Termites if using a timber frame.
Not as good as brick in preventing noise transmission.
Doesn't have much Thermal Mass to balance extremes of temperature or help with Passive Solar Design
If you don't like Brick (Masonry) Veneer tell me why not!
The most appropriate Brick Dimensions will make the walls easier to build.