Presentation of your existing house, or staging as its now known, is important to make sure you get the most money for your new house.
Probably the best look is a de-cluttered home. If you remove all the homely touches it can look a bit sterile
Here are some more tips to make sure it looks the best for the photographs, and for Inspection Days.
Outside Keep cars out of site, mow lawns, remove weeds, 

bottle & glasses for an  outdoor setting.

Kitchen Remove all fridge magnets,  no dirty or clean dishes in sight, i.e. not like this photo!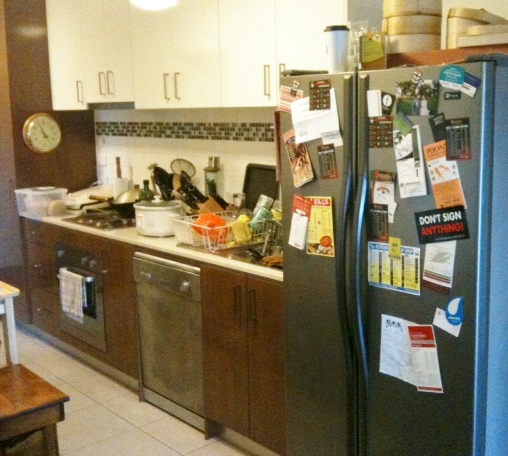 Bathrooms  Matching bathroom towels, remove toiletries.
Bedrooms 

Beds made neatly with clean linen, Just a light and a clock on bedside tables.

Living Rooms Get Fresh flowers and fill the  fruit bowl, remove any bright cushions.
Pets Remove pet basket and bowls and make sure the pet is somewhere else.
General De-clutter including removing toys and perhaps some of the furniture
On The Day Turn on Heating in Winter and air conditioning in Summer. All lights to be on.
If you want professional help there are quite a few people offering to provide staging assistance. A basic service will cost $2-3,000 rising to more than $10,000, which will include loaning different furniture.
To find out how builders stage their display homes see this link: Show House Tricks