There are a lot of expensive bathroom fittings on the home shows and showrooms, but are they really practical?
I saw this wash basin the other day. . . . . .But how do you clean under and behind it?
Perhaps all the people who design these fittings employ cleaners so they don't care about how practical it is!
As well as making cleaning difficult this free standing bath provides a great hiding space for spiders.
How would you feel relaxing in the bath if a big huntsman came walking up the wall!
I wouldn't have a freestanding bath unless I could have 1m of clear space all round the bath. At current house building costs the extra space needed would be adding an extra $3-$4,000 to your build on top of the cost of the bath.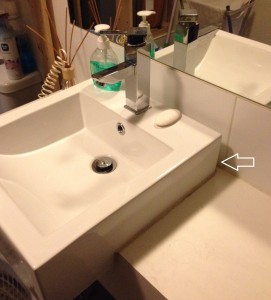 Here is a wash basin in our current rental property which has two issues:
The dirt trap between the basin and the wall.
Square section taps (The issue is water doesn't run off the horizontal surfaces so there are always stains on the chrome)