Breaking the 500 Post 'Barrier'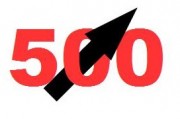 Welcome to this, the 501st Post on the anewhouse Web Site.
The blog has certainly come a long way over the past 3 and a half years.
The site is currently getting around 8,500 visits a month with over 20,000 pages viewed each month.
Of those page visits the top 5 most popular topics (apart from the home page) are:
What do you think is the most useful topic?