What are Green Walls? and Why are they so Spectacular?
Guest post by Hubert Dwight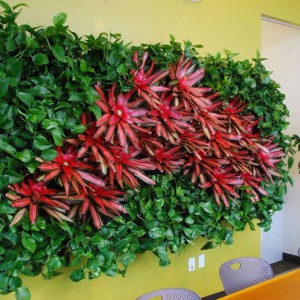 Green walls, known by a variety of names, including living walls, eco walls, vertical gardens or bio walls, are one of the biggest design trends of our era.
Originally developed in 1938, green walls were then known as "vegetative bearing architectonic structure and systems". . . . A bit of a mouthfull and although an accurate description, the tongue-tying name has been shortened to Green Walls.
They are self-sufficient vertical gardens that are attached to either the interior or exterior walls of a building or structure.
Plants living in the green wall take root in a structural support directly attached to the wall itself and receive all necessary nutrients and water from within the vertical structure.
Living walls add many benefits to their environment, including overwhelming beauty, improved air quality, considerable savings in terms of energy costs, acoustics, sustainability, protection of the building, and increased property value.
Aesthetics
The most noticeable benefit of a green wall is its natural beauty.
A well designed living wall, compiled from a wide variety of plants and flowers, will add colour, texture and vibrancy to a space, and can be very visually appealing – essentially, a work of art.
Designs can be customised to enhance the look or theme of an existing space, adding beautiful touches of nature to anywhere.
Using green walls is an innovative way to accent a particular area, or to create a division of space as they are available in stand alone structures.
Quality of Air
Indoor green walls will drastically improve the quality of air in their environment.
The average person spends about 90% of their time inside where air quality is poor and there is constant exposure to harmful toxins and fumes.
Introducing a green wall will aid in absorbing and purifying the pollutants.
The efficiency of the wall will vary greatly depending on the size, and the particular species of plants used, as some species, especially tropical varieties, are highly efficient in air purification.
Having so many plants in a small area will create an oxygen rich environment, making it a healthier atmosphere for anybody in it.
Cutting Energy Costs
Both interior and exterior green walls offer significant savings in regards to heating and especially cooling costs, saving up to 20% overall.
Exterior green walls keep the outside structure an average of 10% cooler in summer, which means less heat radiates inwards, keeping the building cooler. Indoor walls have the same effect, however on a slightly smaller scale.
In the winter months, the microclimate created by green walls act as an extra insulation that reduces heat loss.
Sustainability
Introducing a green wall is a large step in sustainability, as it has hugely positive effects on the environment, as buildings become more eco-friendly and carbon emissions are minimised.
Outdoor green walls act as almost a small ecosystem, filtering air and rainwater and attracting butterflies, birds and useful insects.
Property Value
A green wall can increase property values considerably, as it adds so much to the property, both in visual beauty and the other benefits previously discussed.
Currently, green walls are on the cutting edge of design, therefore having one makes the property more marketable, and offers the area something to set it apart from the others.
How to Get Your Green Wall
Unless one has extensive knowledge of plants and the concept of a living wall, it is not recommended to attempt a project of this scale alone, especially indoors, as damage could be the result of error.
Inadequate fixing, or failure to provide a suitable watering system are two common failings.
Professionals like those at Gaddy's Plant Hire can offer the knowledge and expertise required to incorporate a beautiful and useful green wall into your environment.
More options and information are available at Gaddy's and a professional installation can offer longevity, as well as regular maintenance will ensure your green walls are effortlessly enjoyable.
See Green Wall Fail and Vertical Garden Fail for examples of what can go wrong if a project hasn't been thought through!