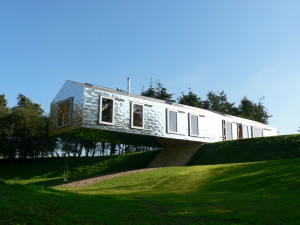 This unusual silver building hanging over a shallow valley in Suffolk, UK. is known as the 'Balancing Barn'.
It was designed by MVRDV, from Holland who are well known for the ingenuity of their designs.
It is actually rented out as a holiday home sleeping up to 8 people.
Want to know more check out this link: www.living-architecture.co.uk
For more Unusual House Photos, Wins, and Fails, have a look at: What the………………….?