Guest Post by James Andrew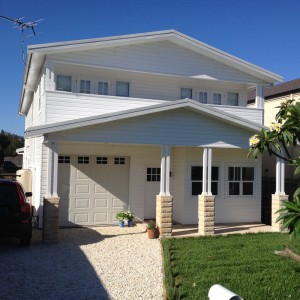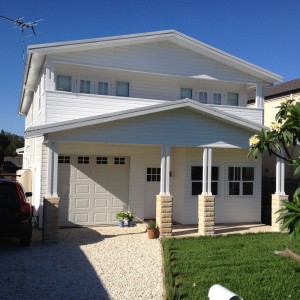 There are certain types of wall surface that are more susceptible to damage from the Australian weather than others.
This mostly applies to timber.
You want to make sure that you protect the timber walls of your home and save on repair and maintenance costs.
The best way to do this is to use cladding on the exterior of your home.
Cladding is also often used on the upper floors of new houses as a different surface and or where the upper floor is inset from the lower walls.
It can protect the house against extremes of weather and it can also insulate your home against noise pollution.
We are going to take a look at why cladding is such a good idea, if you have a timber property, and what type of cladding you should consider using for your home.
Why is it a good idea to use cladding on the exterior walls of your home?
The fact is that timber homes tend to suffer from problems such as peeling, rotting and termite infestation over time.
All of these problems cost money to put right; in some cases large amounts of money.
Ideally, you want to try and prevent these problems from occurring and save money.
This is why it's a good idea to protect your home by applying cladding to the exterior walls.
If you use the right wall cladding you can maintain the appearance of timber but avoid all the problems that can occur with non timber clad walls.
Cladded walls:
Maintain their original colour.
Are not susceptible to damage from extreme temperatures.
Are protected against extreme weather conditions.
Are insulated against loud noises from outside the property.
You can see that not only can you save money on potential repair bills, but you also have less interference from the everyday noise disruption that life can bring.
You get all of this giving a timber clad appearance to the exterior of your home.
What is the best type of cladding to have on your home?
There are several different types of cladding you can look at for external wall cladding ideas.
You can choose to use timber cladding or vinyl cladding.
If you want to get a high level of protection for your property then Pallside cladding is a good choice.
It's a highly durable product with a built in UV protection layer.
Pallside cladding provides improved acoustic protection and also protects against hail.
It's suitable for use in bushfire zones which also makes it a popular choice with many homeowners.
From an appearance point of view, Pallside cladding maintains its colour, so the exterior of your home does not have a faded Appearance.
This type of cladding also does not warp which again helps to maintain the physical integrity of the exterior of your property.
As you can see, applying cladding to the exterior walls of your home helps to protect them against the elements. It also helps to protect the interior of your home from excessive noise disturbance.
After the initial outlay of paying for the cladding you may find yourself saving money on ongoing repair and maintenance costs.