Using Fabrics to Give your Hallway a Striking First Impression
A guest post by Hubert Dwight
An entrance way or hallway of a house often gives an immediate impression of your home to anyone stopping by.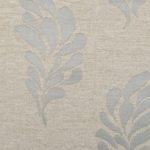 For that reason alone, it's important that your hallway is decorated in a way that expresses your unique personality, and sets the tone for the overall style of your home.
It's also important to remember that this area should feel as if the house is welcoming your friends and company, not overwhelming them.
Your hallway should convey a gracious and friendly feeling, not blast visitors with an outlandish design.  We've gathered a few tips for using fabric as a way to enhance the hallway of your home.
To Paper or Not to Paper
Adding colour and design to the walls is one of the first things that people think of when it comes to decorating their house or apartment, and if they want to add a pattern or design to the walls, wallpaper is often the first choice.
Wallpaper can be used to easily add colour and pizazz to bare walls, but fabric can add so much more.
There's a reason that the most beautiful palaces in the world used fabric to line their walls.
Fabric adds a texture and sensory delight that wallpaper just can't provide.
Whether the fabric is a woven pattern of plaid, checks, or stripes, or a beautifully delicate weave of flower blossoms floating on air, fabric fills your walls with personality.
It's one of the best ways to enrich the hallway of your home.
Fabric as Art
Another way to use fabric in your hallway is to display it as an art piece.
Again, let's take a look at those castles in Europe.Fabric hangings were a way of life in castles or palaces made of stone.
Wall hangings not only acted as a minimal form of insulation on those cold stone walls, they also provided visual interest to walls that were difficult to decorate.
Although you probably don't live in a castle, framing and hanging beautiful curtain fabrics is a wonderful way to add impact to your hallway.
The fabric you choose to hang doesn't have to be an ornate pattern or a pictorial weave, but it should be something that adds a definite statement to your walls.
For example, if your hallway is lined with a deep aubergine solid fabric, a framed square of a lime-coloured pattern of leaves, plants and grapes can create a gorgeous contrast that calls attention to both the wall and fabric hanging.
Cool and quiet
Another way to add impact is to actually downplay the colour of your hallway walls.
A cool grey or beige burlap-type weave is a great choice for your walls if you want to highlight a certain object or piece of art.
Your hallway will still have impact but in a different way. For instance, if you have an original Warhol print, you would want that to have centre stage on the wall.
And what if you don't have a Warhol original to hang on your wall?
The focal piece of your wall doesn't have to be expensive, but it does have to make a statement.
Something as simple as a large mirror with a dramatic frame can be your objet d'art.
Antique tools and saws, framed book covers, and Edwardian table linens are just as notable and amazing as a print or painting.
Make Your Hallway Welcoming
The most important thing to remember is that whatever you feature in your hallway should reflect an aspect of you or your family.
After all, when someone comes to your home, they're there to see you.
However you decorate it, just make sure that when people walk into your hallway they receive a charming message of "welcome to my home."