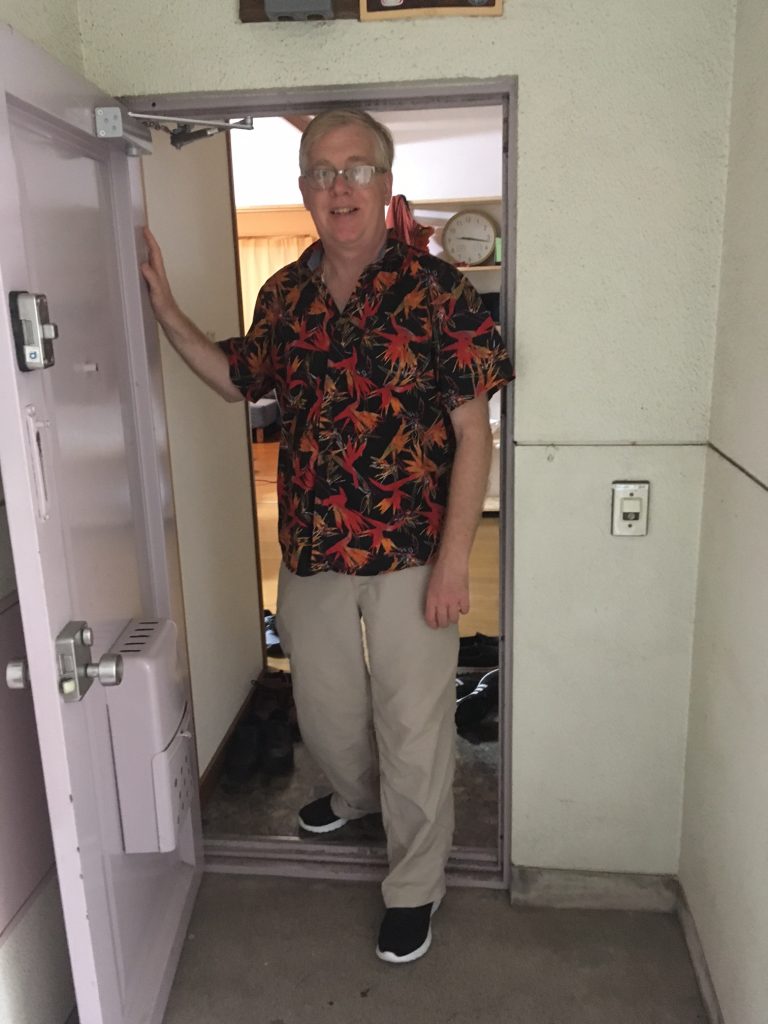 One of the great things about Airbnb for a 'House Tragic' like me is it gives me some experience of what it is like to live in that country.
Much more interesting than an anonymous hotel room.
I have previously posted about a Rome Apartment.
Now here are some of the things I found from my current Japan stay.
The Front Door
Well here I am at the front door. . . . and that's not an optical illusion, my head just brushes the top of the door.
That is typical of all the doorways in the apartment.
Unusual for me as I am around 1.8m tall.
The door is made from steel plate with two very solid locks and a security chain.
People say that Japans a safe country, but people obviously aren't taking any risks.
The other thing you may notice is the step up about 1m inside the door. . . . that is where you leave your outside shoes.
Cooking
The main Cooking facility was a two 'ring' induction cook top, placed on a bench.
This was supplemented by a standard microwave and electric kettle.
No Grill
No Oven
No Special Wok Burner
Doesn't seem much. . . but got me thinking that it's a long time since we used more than 2 rings on our cook top.
I would miss the grill and oven though.

Bathroom Facilities
Although this plan is not our apartment it is a similar size and layout, and was being advertised near where we were stopping. (Average size for 2 beds in Tokyo is 55 – 60sqm)
You will see that there are three separate rooms:
A 'wet room' with just a small bath and a shower.
A toilet
A powder room
All three in a total area not much bigger than a small Australian en-suite.
It did however allow all three of us to get ready in the morning sooner than if it was only one room.
The Laundry
The last surprise was the laundry.
My wife searched everywhere for the location of the washing machine that was mentioned on the apartment description.
We finally found it on the balcony!
NB. Those blue crocs aren't mine.