Be Ready to Touch Up Paint Marks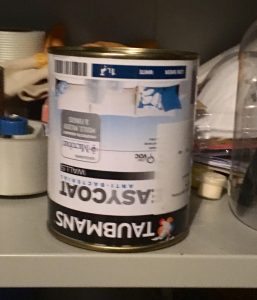 Every time we have moved it seems that at some stage the walls will get marked.
As time goes on other marks will occur from time to time.
To stop this becoming a big issue I would recommend that you make sure you get a can of the correct colour paint before you move.
This photo is here to remind you that once you open a tin of paint you should always store it upside down.
This stops the paint drying out or developing a skin if it sits on a shelf for months, or years.
If the plaster is dented you could check this post:  handy free tool to help you place filler.