Guest post by Hubert Dwight
5 Stylishly Sensible Tips For Reinventing Your Abode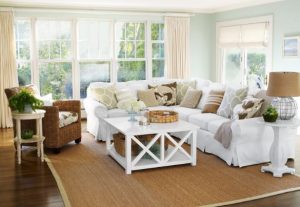 When it comes to spending money on home decor, you want to know that your investment will be worth it.
Instead of splurging on the latest trendy throw pillows, try spending the bulk of your budget on items that serve a practical purpose while also making an impact on refreshing your space.
Investing in one or two sensible household items will add something new and different to your home that will be worth the price because you will reap the benefits of your choice for years to come.
An outdoor space for all seasons
When you take the time to create your own little outdoor oasis, you want to be able to make the most of it.
Outdoor spaces are great for entertaining, and the fun doesn't have to stop just because summer's over.
Installing subtle and stylish electric outdoor heaters allows you to use your outdoor space all year long.
Enjoy a crisp winter day reading on your deck or throw an outdoor dinner party without cool nighttime temperatures making you shiver.
Having an outdoor heater opens up all kinds of options for you, because you aren't restricted by the temperature or the seasons.
Designing a perfect outdoor space is an investment, but adding an outdoor heater only makes that investment more worth it.
Future friendly microwave
Have you ever noticed that most people keep their microwaves at eye or chest level so when you pull out your hot food it's headed straight for your face?
If you install your microwave under the countertop instead, you are pulling the food up, minimising the risk of a dangerous splash of hot soup coming at you.
Microwaves are also bulky items that either take up too much space on your countertop or get installed level with your cabinets, disrupting whatever style tone you're trying to set.
With an under the counter microwave, you remove it from your line of sight and hide it away like the dishwasher.
Timeless flooring
Wood floors are hands down the most practical choice for any home.
They have so many benefits from improved air quality to just being easy to clean.  
They are also a great investment because they last a long time and are always pretty universally appealing should you one day sell your home.
There are many choices for wood flooring so you can still make it fit your individual needs or tastes.
There are all different color stains to choose from and there are even types of wood flooring that purify the air for you to get rid of chemicals and smells.
Indoor air circulation
Ceiling fans are a great example of practical style.
Many ceiling fans include both a fan and a light, giving them even more practical purpose. Like light fixtures, ceiling fans come in all types of styles so there are infinite possibilities to suit any room.
The cool breeze is a welcome relief in the summer time, making a ceiling fan the perfect choice to update any room in your house.
Ceiling fans can also be used in winter to circulate warm air.
A breath of fresh air
Indoor plants are such a simple yet impactful way bring new life into any room in your home.
They're low maintenance, inexpensive and, on top of looking amazing, they're good for you too!
With all shapes and sizes to choose from, you can fit plants in pretty much anywhere whether it's a large potted plant in a corner or an elegantly draped vine on top of a shelf.
When updating your home, the practical purchases are going to be the ones that have a positive impact on your day to day life.
Even when these practical purchases feel like a splurge, they're worth what you spend on them because they will never go out of style.