Best ideas to make your kitchen look fantastic
Guest Post by George Hong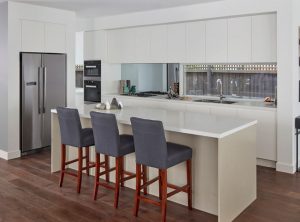 Planning a Kitchen?. . . . See below for some considerations for when you're redesigning this essential space.
Storage
Regardless of your requirements, almost everyone will benefit from increasing the storage capacity of their existing or new kitchen.
To do so, there are number of great options to choose from which should form a part of your kitchen design from the beginning, rather than an afterthought when you're close to finishing the plans.  
Appliance cupboards, drawers with specific dividers for anything from utensils to pet food, sliding pantries and hollow island benches will provide more space to house your kitchen items.
This leads to a tidier space and enhances the functionality of your kitchen and less clutter will improve the appearance of the room overall.
Butlers Pantry?
Another functional addition to any kitchen, space permitting, is the butler's pantry.
Not only does this additional space provide more storage for items such as extra crockery, glasses and special occasion cutlery, but they may also include additional power points, dishwashers and sinks.
With the added bonus of a door to hide any accumulated mess whilst entertaining, for example, the butler's pantry is highly customisable, so you can tailor it to your needs.
Floorplan
With regard to your floorplan, don't forget the famous triangle configuration for your sink, cooktop and fridge.
This arrangement will mean you can work with ease and not have to walk back and forth too much, or be too cramped.
If you are, however, using your kitchen for a number of non-cooking uses, ensure that through traffic has adequate room.
Do not placing seating not too close to hot cooking areas and consider whether there is enough work space if cooking and entertaining or other activities are occurring simultaneously.
In smaller kitchens, this is sometimes why the triangle is abandoned in favour of a kitchen that basically operates in a straight line, in order to maximise space and allow other people to be able to move around when it's being used.
If you are considering an open design kitchen, planning is essential in order for it to look its best and function as intended. (For example, you may choose to select movable kitchen furniture that serves dual purposes such as meal prep space and a dining area)
Overall
The kitchen island is an example of a multifunctional fixture which you can maximise use of if you predetermine what else you'll use it for.
You may opt for built in storage and seating on its opposite side so it can function as an informal dining area or homework station in addition to being a food preparation area.  
So whether you're building a luxury home builder from Melbourne, a Geelong home builder, or Mildura to Lakes Entrance, shop around for inspiration when developing your ultimate kitchen.
The good news is that you can do a vast amount of research online when you're beginning to planning this space.
Pinterest, design and building blogs as well as architecture sites will all offer copious amounts of kitchen configurations from the budget DIY to the extravagant.