Five things you should not forget when building a home
Guest Post by James Andrew
Building a new home can be exciting.
You should hopefully get the exact property you want, at the end of the project.
Of course, it can also be a stressful time, and it's easy to forget important factors when this is the case.
If you want your home building project to be successful, you need to make sure attention is paid to each important aspect.
It's likely that you will hire professionals, such as builders, architects and surveyors, to help with the project.
This does not mean that you cannot keep an eye on proceedings.
Here are five things that can be overlooked when a home is being built so don't let them be forgotten in your home.
Think energy efficient
Energy efficiency is an important consideration in any newly built property.
You need to think about the fitting of insulation.
As well as insulating the inside of the property, you may want to think about having palliside cladding fitted to the outside.
You also need to spend time researching the best air conditioning and heating systems to have fitted.
Consider re-sale
You may think that you are building your own home, so you should be able to choose the design to suit what you want.
You can do this most of the time, but you also need to consider what happens if you want to sell the property at some point.
If you add too many high end features you may price yourself out of the local housing market.
You should also be wary of being too quirky; really unusual features may limit interest from potential buyers.
Pay attention to power outlets
Building plans will not necessarily take account of your power outlet requirements if you do not make sure that they do.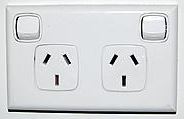 There is no point having appliances and devices located in areas where there are no power outlets.
Make sure that the plans reflect where you are likely to locate TVs, fridges and other items.
Make the most of attic storage
If you are incorporating attic space into your new home, you need to ensure that you make best use of it.
You should ensure that flooring and wiring in the attic is included in the plans for your home.
Make sure doors can open easily
You may think that it's obvious that the doors in your newly built home should be able to open as you want them to. Unfortunately, this does not always happen.
Plans for building a home do not always include the logical positioning of doors.
You may find that, while it's fine to have space for a doorway in a particular place, once the door is hung there is not enough room for it to open easily.
You want your newly built home to be just as you imagined it.
It's likely that there will be some snags along the way.
But, you can limit them by making sure nothing is missed, including the considerations we have mentioned in this article.