How to Choose the Perfect Lighting for your New Home
Guest Post by Alex Charles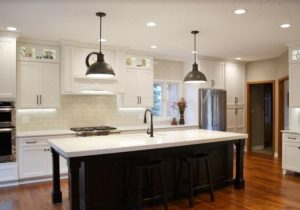 If you are soon to move into your dream home, you have probably had a hand in the design, and now comes the interior design, of which lighting is a major component.
Technology has brought us many innovative improvements, and for the lighting industry, LED revolutionised things, and for the first time, the homeowner has many lighting options to choose from.
Incandescent bulbs are not only power guzzlers, the light spectrum is very narrow.
Bearing in mind they were invented in a time when basic lighting came from candles, the traditional light bulb has served us well, but LED solutions offer so much more, with lower input – high output.
There are many ways to really get creative with modern lighting, and here are a few ideas to transform the look of your home.
LED Ribbon
Light Emitting Diode can be formed into ribbon, which comes in a roll, and with strong double sided tape, it is very easy to attach a series of LEDs under a window sill, or above a kitchen worktop.
The strip is waterproof and can be cut to length, and with a wide range of colours, there really is no limit to what you can do.
The exterior can really benefit from LED ribbon, which can be tastefully positioned in trees or shrubs, creating a surreal ambience in the early evenings.
Multi-Purpose Lighting
For the interior, pendant lighting is a popular choice in kitchens, dining and living rooms, and halls, as it offers both general and task lighting.
If you live in Australia, there are online solutions and Carlton's pendant lights come in a wide range of shapes, sizes and colours, so there's bound to be something just right.
Pendant lighting should be at the correct distance from the table top or work surface, and around 30 inches is fine for a table, and the closer you get to the table surface, the more focused the light becomes, with 18 inches being ideal for task lighting.
Online Solutions
Remember the days when you would spend an entire afternoon driving around looking for lighting stores?
Even a large shop would have a limited selection, and it might take a few expeditions before you finally find what you are looking for.
With online solutions, you can literally browse to your heart's content, and with an impressive range of styles and light control systems, it is the ideal place to sort out your lighting for the new home.
Free Advice
Actually, in this digital age, the Internet provides us with information and knowledge on just about every topic you can think of, and there are many informative articles online about domestic lighting.
With LED, you can really get creative.
Professional lighting experts have given the world their secrets, and with lots of high resolution images, you can really see the effects lighting has on the room.
Lighting design is critical, as this is a major component of the ambience, both inside and out, and with online suppliers, you can order everything in one simple process.