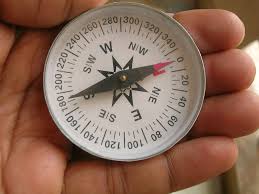 Don't rely on a compass!
Or a mobile phone either!
There are different Norths
True North
Grid North
Magnetic North
The difference can be more than 10 degrees which can affect your view and the solar performance of your house and solar panels.
Just to make it more complicated the difference can change depending on where you live and the date!
True North
True North points to the North Pole, the axis of the earth's rotation.
Grid North
Grid North is the basis of the grid lines on a paper map as your north reference.
Grid north is typically close ( within 2° east or west of true north) and varies with your position within a zone.
It is used when establishing geographic co-ordinates so it will be the direction the North Arrow points on a house plan prepared for construction.
Magnetic North
A compass needle will align with the earths magnetic field and thus points to the 'magnetic' poles.
The Earths magnetic field and thus the 'Magnetic Pole' moves over time.
The difference between Magnetic and True North (called Declination) is also different depending on your position.
Want to find the difference for your site? . . . . Follow this link:  Geoscience