En Suite Planning – Lessons From Hotels
As I write this post I have spent over 5 weeks travelling and have experienced a lot of hotel bathrooms.
Here are some of the things I have learned, or been reminded of.
Basin Plug Pull Integrated Into Mixer
Basins with one of these pulls that operates the plug are quite common.
Waste of money in my opinion as they don't work reliably!
The success rate seems to be about 25% for giving an adequate seal.
In a couple of cases The seal was so bad I have had to leave the mixer running to keep enough water in the bowl.
On a side note a spring loaded pop up plug we had in our last place only lasted 4 years.
A traditional plug is much cheaper and more effective.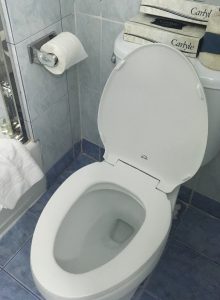 Toilet Roll Holder
Make sure it's in front of you when you sit down.
You, and your guests, don't want to be twisting around when sat on the toilet.
It also needs to be clear of any spray from the shower!
Shelves
Shelves over the basin are a bad idea.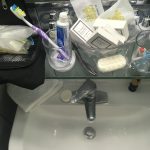 With this shelf I was in danger of hitting my head when bent over to wash my face.
A glass got knocked of the shelf and could have cracked the basin on the way down.
For getting better ideas for shelves, you can check here.
Showers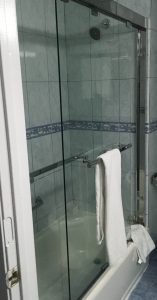 Showers over the bath are another bad idea.
It's awkward and slippery.
There is a real risk of a fall!
If you really want a bath I would suggest you put it in the main bathroom.
NB I prefer sliding shower screens to hinged ones and I really liked the one in the photograph as both heavy glass panels slid. . . . made it easier to clean.