Base Plan has 6 Star Energy Rating
But What Does it Mean?
If you think it means is that your house will have a 6 Star Energy Rating you could be wrong!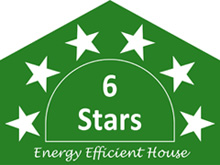 You could be up for thousands of dollars of upgrades to meet the required standards.
All the following, and more, can lower your energy rating.
Less than ideal orientation
Add windows or increased window sizes
Add stacker doors, or even just ordinary doors
Increase room sizes
Adding down lights
Removing a rainwater tank
If you aren't careful you could find you will be getting a bill for extra insulation and double glazing to restore the rating to 6 star.