What To Look For In The Best Mattress
Guest Post by Hannah Jones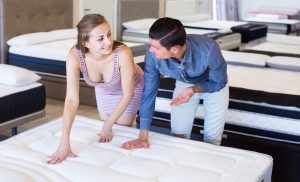 The mattress you select can influence your health in a lot of ways.
A good mattress can help you sleep better at night, allowing you to become more energetic and productive during the day.
A good mattress can also prevent you from developing allergies and keep your body safe from injuries and body pains.
To ensure that you'll pick the right mattress, it's best to consider all the necessary factors the best mattress should have before making a purchase. 
Suppliers that sell beds & mattresses can be found in different locations.
Regardless of where you live right now, you'll have easy access to these stores. In picking the best mattress, make sure to thoroughly think about the following first:
Size
The market is bombarded with different kinds of mattresses.
All furniture stores offer this product, making it challenging for you to choose one, especially if you're buying a mattress for the first time.
To help narrow down your search for Australia's #1 Mattress, start scouting for reputable suppliers and check the size of the mattress.
This is a vital factor to consider as the size of your mattress can affect the overall aesthetics of the room and the comfort of the person sleeping.
Here are some of the most common mattress sizes available in the market today:
King-Size Mattress (Suitable for Couples):

If you're living with your partner or spouse, a king-size mattress is an appropriate option. King-size mattresses usually have 76 inches of width and are 80 inches in length, providing a lot of room for two people.

Queen-Size Mattress (Suitable for Adults and Guest Rooms):

Every hard-working adult deserves a good night's sleep. How else can they prepare for more responsibilities and challenges if they can't get some shut-eye? For guest rooms, a queen-size mattress is an excellent option. This mattress is 60 inches wide and 80 inches long, perfect for any adult who loves sleeping in different positions.

Full-Size Mattress (Suitable for Kids and Teens):

Sleep is vital for the development of kids and teens. School-aged children need around 9 to 11 hours of sleep, while teenagers need to sleep for at least 8 to 10 hours. If you're buying a mattress for kids and teens, consider choosing a full-size mattress. These mattresses are about 53 inches wide and 75 inches long, allowing kids and teens to stretch and rest better.
Check out this video to know more about the features you should look for in a mattress: https://www.youtube.com/watch?v=gNEbOwQbqfs. 
Comfort Level
On average, you will spend an equivalent of 26 years on your mattress.
After a stressful day at school or work, you will usually look forward to relaxing and sleeping on your bed.
This is just one of the reasons why you should buy a mattress that provides the utmost comfort. Buying a cheap mattress but is too stiff for your preference can lead to back pain and other health issues.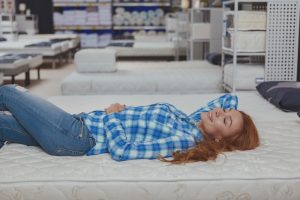 When visiting any suppliers in your area, make sure that you're buying a mattress that is appropriate to your comfort needs and try out the mattress in person.
Here are some tips to check if the product you'll buy fits your comfort level:
Pay Attention to Your Posture:

Your postural alignment while being in the mattress is one of the most basic indicators of comfort. If your hips and pelvis are raised out of the alignment of your spine, the mattress you're trying out might be too firm. If you notice your hips sinking, the mattress might be too soft. A comfortable mattress is one that ensures your hips and pelvis are in line with your spine.
Watch Your Weight:

Your body weight, along with your height and Body Mass Index (BMI), can affect the appropriate comfort level when looking for a mattress. Your support and comfort needs can significantly change if you recently lost or gained a few pounds. Generally, short and heavy individuals will require a firmer mattress, while taller people can experience body alignments and proper support from a softer mattress.
Customize for Comfort:

If you have browsed through different stores, and none fit your comfort needs, opt to customize a mattress. There are now suppliers that offer customizable mattresses fit for your unique comfort preferences. Some customizable mattress can even cater to two different comfort requirements, perfect for sleeping partners who have different comfort levels.
Consider Your Sleeping Position
While some sleep comfortably on their backs, others do it on their sides or lying on their stomach.
When buying a mattress, make sure that you consider your sleeping position. Buying one that doesn't allow you to sleep in your preferred sleeping position can only compromise the quality of your sleep.
If you're used to sleeping on your back and the mattress you bought is too stiff, you'll end up tossing and turning and losing sleep every night.
Over time, sleep deprivation can put your health at risk.
For you to have a good night's sleep, here are some tips to help you buy a mattress that perfectly suits your sleeping position:
Stomach Sleepers:

Sleeping on your stomach with the wrong mattress can strain your neck and push your spine upwards. To prevent this from happening, look for a mattress that provides extra support to your lungs and breasts. Memory foam mattresses that conform to your body are one of the best options for stomach sleepers. This type of mattress allows your body to sink down into the mattress. A memory foam mattress also forms a cushiony layer, perfect for supporting body parts that usually protrude when you sleep.
Side Sleepers:

Side sleepers need to use a mattress that can provide optimal support for their spine and neck. Using an incorrect mattress type for this sleeping position can only result in back and neck problems. If you're a side sleeper who doesn't want to experience any of these health problems, scout for a soft or medium memory foam mattress. Buying a mattress that is too firm can leave a space between your neck and the surface you're sleeping on. This can cause neck and lower back pain. Choosing a mattress that is too soft, on the other hand, will not provide your body with the support it needs. 

You can also choose to use a hybrid mattress. Because this type of mattress is made up of foams with different densities, the top layer can act as a plush memory foam while the underlying layers can provide support and density to your body.
Back Sleepers:

Out of the many sleeping positions, sleeping on your back is one of the most common and is the one recommended by doctors. If you sleep this way, you aren't putting too much pressure on your neck and spine. This sleeping position doesn't require you to stretch or bend, reducing any back pain or joint pains. For you to sleep well in this position, you need to find a cushioned and supportive mattress that is not too soft. A latex mattress can fit all of these requirements because it can give you the support you need without being too springy. If possible, buy a latex mattress that has orthopedic support for your back to avoid any back problems in the future.
Temperature
Temperature plays a vital role in your sleep.
It'll be very hard for you to get some shut-eye if your bedroom is too humid.
With this kind of temperature, you'll be fanning yourself for hours, which can lead to strained wrists.
The same is also true when your bedroom is too cold. Instead of getting long hours of sleep, you'll be waking up in the middle of the night, freezing.
Regardless if you're a hot or cold sleeper, there are mattresses that can suit your temperature needs.
If you're a hot sleeper who consistently feels warm during the night, here are some tips to help you find the best mattress:
Innerspring mattresses can help you sleep the coolest. This works because this type of mattress lacks density and heat-retaining foams. Innerspring mattresses have springs that allow more breathability.
Hybrid mattresses can also be a great option because these types of mattresses have an innerspring paired with a padded topper or foam. These features reduce the heat retention of your body, helping you sleep more comfortably at night.
For cold sleepers who always find themselves waking up shivering in the middle of the night, the following tips can come in handy when choosing a mattress:
A thick memory foam can be the answer to a cold sleeper's sleeping problems. This kind of mattress is very comfortable and can capture and retain heat. If you choose to use thick memory foam, waking up in the middle of the night and feeling cold will become a thing of the past.
Choose Wisely
One of the biggest mistakes people commit in buying a mattress is solely looking at its price tag. Sure, the price can influence your buying decision, but it shouldn't be the only factor you ought to consider.
The mattress you'll end up using can impact your general health and life, so make sure to choose carefully. Use this article as your guide, so choosing the best mattress—one that can improve your health—can become a breeze!