Planning Electrics – Remaining Rooms
With the main rooms covered in previous posts I will cover the remaining rooms with this post.
Dining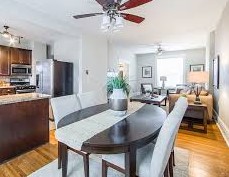 For a dining table in the kitchen area an extra double socket close to the table should be enough for any cooking gadget that you may want on the dining table.
If you have a separate dining room I prefer one double in each corner to give plenty of flexibility for dining.
It will also make the room more useful if you want to change the use later.
Its quite common to go for a pendant fitting for the dining table.
Remember the point is to illuminate the table but not to dazzle the diners.
If you have got a kitchen dining area make sure the lights are on a separate circuit so you can switch the kitchen lights off while you eat.
Hallways
In all hallways its useful to have a power socket for the vacuum.
For the front hallway a power supply for the bell and any CCTV system are recommended.
We also have a table light with a time switch on the hall table. This makes the house more welcoming in the evening and deters burglars by making it look more like someone is home.
Laundry
In our laundry we just have one four way power point. This allows us to leave the washer and the drier plugged in and to have two sockets spare, perhaps for the iron and a radio.
For similar posts see Electrical
More Electrical Planning including 24 pages of Check Lists in the