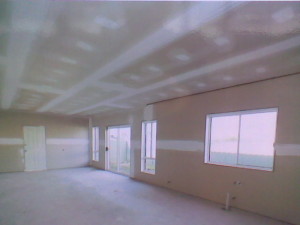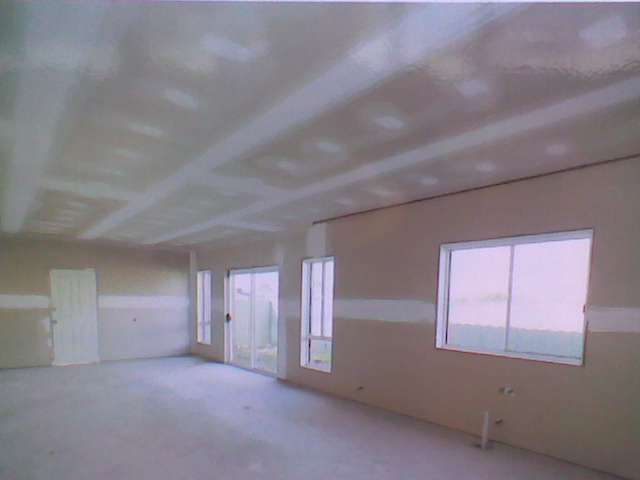 Fixing follows on from Lock Up.
The fixing stage is moving from a very rough looking interior to something resembling the house you are expecting.
During this stage the following works will be taking place:
Install Insulation This includes both roof and wall insulation Although the wall insulation will be installed before dry walling the ceiling insulation may be installed following ceiling board installation.
Electrical – Rough in Running cables/conduits and installing switch and outlet boxes to the frame.
Plumbing – Rough In Running pipes inside walls
Plasterboard installation This will include ceiling boards, wall boards and cornices.
Air conditioning / Ducted Heating If a large main unit is mounted in the roof space it may be installed before the ceiling boards are in place.
Waterproofing Wet Areas The waterproofing membrane is applied to floors and walls before tiling
Carpentry – First Fix This sees the kitchen cupboards and bathroom vanities carcasses installed. (Doors, drawers, and counter tops are often left off at this stage) Skirting boards and architraves and internal window sills are also installed.
Main Plumbing Fixtures Baths, basins, sinks shower trays and laundry troughs are installed and connected to the drainage system. Taps, mixers and toilet bowls are often left off until after tiling.
Tiling Both wall and floor tiling are normally completed at this stage.
Portico and Carports These will be constructed at this stage together with any freestanding garage. It's likely that the garage door however will be left until later.
The next stage is 5; Completion
The Practical Completion Inspection (PCI) will be coming up soon. This PCI Guide tells you what you need to look out for.