Do It Right: The Golden Rules of Bathroom Design
Guest Post by Atanas Gjorgiev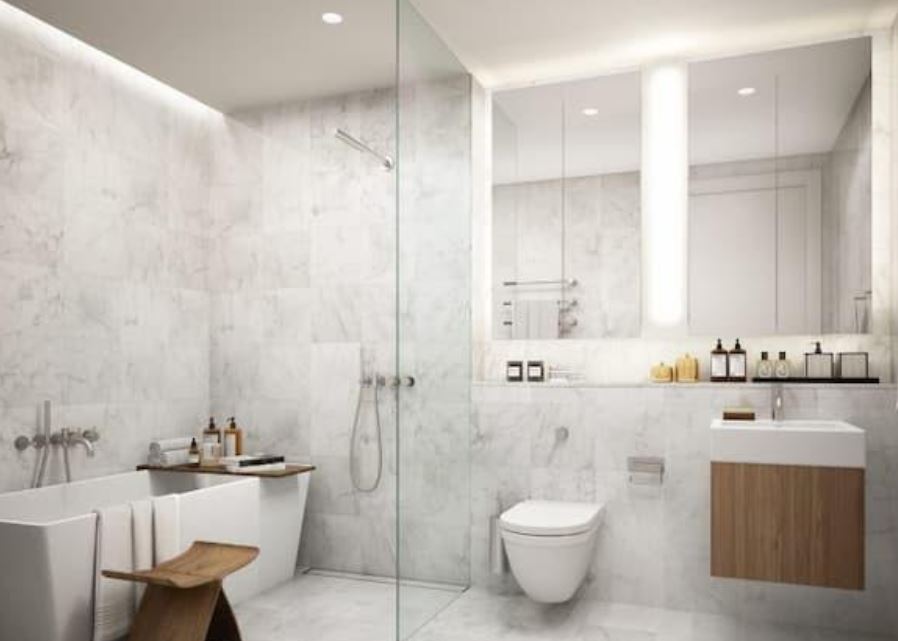 Are you planning to build a new bathroom from scratch or remodel your existing one?
If you already visited some bathroom showrooms, I'm sure you've noticed how varied bathroom design is nowadays.
It's 2020 and you could say that anything goes in bathroom design – from colourful bathroom basins to wooden bathtubs.
If a wooden tub is where you want to soak in the morning, I'm not here to judge.
But despite the differing styles of bathroom elements you can use, there are still some design principles that you should adhere to if you want to achieve a functional and beautifully cohesive bathroom.
The following rules are key to creating a terrific bathroom, no matter its style or size.
Always Aim for Functionality
Despite how much Instagram and Pinterest romanticise bathrooms, in its essence, the bathroom is primarily a utilitarian space.
That being said, your main focus when creating your bathroom should be functionality.
A hard-working bathroom should be easy to use for everyone.
Make sure that all the elements in the bathroom are accessible to different users.
Installing sinks, mirrors and tapware that can suit everyone is both smart and thoughtful.
For instance, if there are small children or elderly and frail people in your household, monobloc taps with a single leaver only require applying a small amount of pressure to use.
Additionally, a handheld showerhead will be convenient for users of different heights, as opposed to a wall-mounted showerhead.
Install Water-Saving Fixtures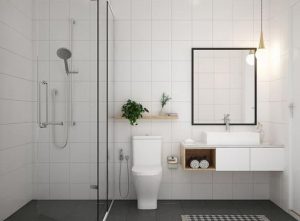 Considering how the bathroom accounts for more than half of residential water usage, fixtures with a sustainable design can go a long way when it comes to reducing your home's water bills.
At bathroom showrooms across Australia, you can come across a vast range of WELS regulated products – from taps to toilets, showerheads and washing machines.
For instance, you can purchase a showerhead with a low flow rate, rated 3 or 4 stars. For a family of four, it's estimated that installing a 3-star showerhead can save around $210 each year, whereas a 4-star showerhead can cut around $315 from your water bills.
Add to this the savings on electricity because less water will need to be heated, and this simple change can be significant for your budget.
Make Sure the Layout Fits the Space
The bathroom is often the smallest room of the house.
So, you need to consider the amount of available space before you can plan out what to include.
For instance, some people love a separate tub and shower, but this isn't a good idea if you don't have much room.
Combining the two can allow you to save some space.
Additionally, you also need to go for a smart layout.
Remember, in the bathroom, you need to have enough room to move around.
For instance, a three-wall-layout where fixtures like the toilet, sink and bathtub are all installed on separate walls may not be a good idea for a narrow bathroom.
The three-wall layout generally works best in spacious bathrooms with a round or square shape.
For a small or long and narrow bathroom, a two-wall or single-wall layout may be the most space-efficient choice.
The bathroom should be a place to relax, not a room chock full of elements that make you feel cramped and uncomfortable, so make sure you invest a great deal of effort in planning a suitable layout.
Add Plenty of Storage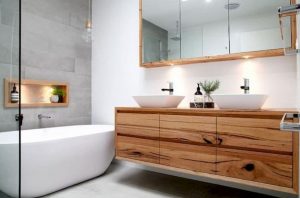 The bathroom is the home of an ever-growing collection of shower gels, body scrubs, creams, makeup, grooming tools and all kinds of other personal-care items.
Leaving all of these things sitting on the counter or lining the edges of the bathtub sure makes for visual clutter. And no matter how attractive your
bathroom design is, clutter can undo all your efforts in creating a calm space., but growing your personal-care collection won't be a problem, as long as you have enough storage to hide it neatly away.
When adding storage, try to think in all directions – a vanity under the sink, a medicine cabinet above it,shelves mounted on the walls and woven baskets on the floor.
If you have the space, you can also add a chest of drawers for storing clean towels and extra toilet paper rolls.
Not only do storage solutions help you keep clutter at bay, but they can also be used to add a decorative touch to the space.
Design a Space That's Easy to Clean
Bathrooms get wet and dirty quick, but your design choices can have a big impact on how easy to clean your bathroom is.
For instance, grout lines can be some of the most demanding chores when cleaning a bathroom.
That being said, if you want to save yourself from scrubbing grout in the future, you may want to line your walls with some solid surface choices instead of tiles.
For instance, stone slabs tend to have few seam lines which do not attract dirt as much, but if you do love the look of tiles, then at least reduce
the number of grout lines and their thickness by choosing large-format porcelain tiles.
Another way to make sure the bathroom doesn't get dirty as often is to prevent the floors from getting wet.
This can be done by enclosing your shower area with a shower curtain or a glass screen.
However, shower curtains are notorious for attracting mould, which means a glass screen will be easier to maintain.
Frameless shower screens are easier to wipe clean, plus there are a variety of coatings that can be applied to glass and help it repel water and soap scum.
Don't Forget the Power of Good Lighting
Lighting is important in the bathroom.
Not only does good lighting help you apply your makeup better, but it also helps magnify the space as it bounces off tiles, the bathtub, the mirror and the sink.
Unfortunately, bathrooms tend to get the leftover space after all the other rooms take up the best spots and windows.
As a result, bathrooms struggle with a lack of natural light, and then there are bathrooms that have no windows at all.
If this is the case, to bring in some natural light into your bathroom, you can install a skylight if the design of the home permits.
Skylights are a great way to flood the room with sunshine while saving the walls for other bathroom elements.
If you're really not able to add a window, turn to artificial light that will illuminate the space in a natural way.
To do so, pay attention to the bulbs you use.
Avoid yellow lights and cold or fluorescent hues, and instead, choose daylight toned LED bulbs which are perfect for simulating the effects of soft sunlight.
Additionally, since the bathroom is also a place where you want to relax, installing a dimmer switch can help create a more serene atmosphere.