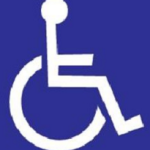 Accessible design is making a house suitable to be lived in or visited by a disabled person.
If you don't think this is important remember that one in five Australians has a disability.
So for instance:
You might be fine now but what if you or a family member has an accident?
How will you manage when you get older if you are in the same house?
If a friend or relative becomes disabled will they be able to visit you?
Also for those thinking about starting a family remember . . . a wheelchair friendly house is also a pushchair friendly house.
Ideas To Incorporate Into Your Design
Here are some of the things to think about:
A level site.
Driveways and garages wide enough to get a wheelchair next to the car.
Ramps rather than steps. Usually at a slope of no more than 1 in 14.
Doors at least 800mm wide, internal and external.
Corridors at least 1200mm wide.
Toilet doors opening outwards.
Reinforced walls next to toilets to allow fitting of grab rails.
Walk in large showers.
Aim for  1000mm space between furniture in all rooms.
Building these things into a new house is a lot cheaper than having to change the house some years down the track.
If you think this is just common sense its interesting to see how often designers and builders get this wrong.
I recently visited a retirement village where all the houses were built on stumps with a minimum of two steps to get up to the front door.
Some even had three steps.!
For similar posts about house design see Plans