Top Greenhouse Design Ideas that Protect Against UV-Rays & Make Plants Healthy in Warm Climates 
Guest Post by Ghani
Are you designing a greenhouse or thinking about it?
If so there are many things you'll need to do in order to ensure your plants stay healthy!
It all boils down to the details of the design, so let's take a look!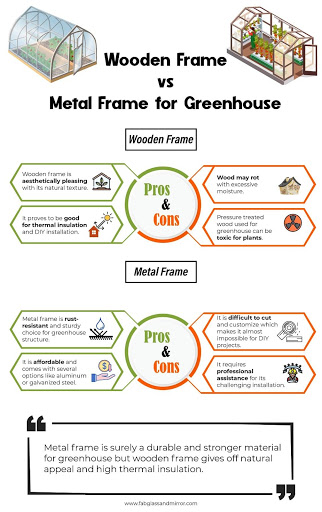 Things you should prepare before starting from scratch: 
Designing a greenhouse will take time and preparation, as it's not a simple job!
Before you get started there are a few things you'll need to take into account:
Analyze the area you have available –

If you don't already have a specific place in mind, determine where would be

best to allocate the greenhouse

. Take measurements and allow for a buffer in case you need additional space! 

Check the solar direction –

Having proper access to light is imperative if you want your plants to stay alive. Keep an eye on the solar direction, noting how it changes throughout the day. You'll need a spot with full access to light and minimal shading. If there are trees that cast shadows for long periods of time, it may not be the best spot. 

Investigate the plants or crops you'd like to grow –

Depending on the climate, access to light and other factors, you may not be able to grow everything you had planned on growing. Do your research on each plant or crop ahead of time so that you're well equipped and know what you'll be able to grow within your greenhouse. 

Decide how you're going to power it –

Are you going to go with electric or are you seeking a more sustainable option such as solar power? They're very different so it's important to know what power source you want before you get started! 
Keep in mind that these are just a few of many aspects you'll need to consider before getting to work on your greenhouse.
Wood vs metal framing: which one serves the best purpose?
Finding the right frame for your greenhouse is another detail you'll need to decide on.
Typically people choose wood or metal framing when designing and creating the greenhouse themselves, but which option is superior? 
Wooden frame:
Pros
Aesthetically pleasing 

Good for insulation purposes

Easy setup 
Cons
Impractical unless your design is simple

With lots of moisture present, the wood may rot

Pressure treated wood (which is typically used in greenhouses)

can be toxic

and chemical preservatives may attack your plants
Metal frame:
Pros
You can't beat the durability and won't need to worry about rust or rot 

Steel frames are generally less expensive than wood 
Cons
It's much heavier and more challenging to set up than wood frames 

It's a more difficult material to work with 
Both options can make for an excellent greenhouse but if you're stuck on which one to choose, you could always use both.
Choose wood for some parts and metal for others to get the best of both worlds! 
Ideal designs of greenhouse for different type of area and planting:
Next up is choosing the appropriate design for the greenhouse.
Everyone's space looks different so you'll need to choose a design that works with yours.
Here are a few options you can go with:
Round top –

With traditional walls and rounded top, this style is cost effective but may require more maintenance than others. 

Dome shaped –

This half circle design is excellent as a standalone greenhouse with no intention of attaching it to another structure. 

Umbrella shaped –

This shape is excellent if you're looking to install a small greenhouse in your backyard as it won't take up much space and can be easy to move around if necessary. 

Barn style –

With shorter walls and a wider roof, this

design makes for a stunning greenhouse

!
The most important factor to keep in mind when deciding on the design is solar direction.
Remember that your plants will most likely need as much light as possible so choose a design that will allow for optimal light! 
Acrylic sheet (plexiglass) vs polythene sheet: Which one to use?
Lastly, you'll need to choose acrylic or polythene sheets to enclose the greenhouse.
Let's take a look at the pros and cons!
Acrylic/plexiglass:
Pros
Shatter resistant 

Easy to cut for custom designs 

Higher transparency for visibility 

It retains heat fairly well 

There are a variety of colours to choose from
Cons
Prone to scratches 

Can be more expensive than other options 
Polythene:
Pros 
Cons 
A larger impact on light transmission

It doesn't retain heat very well 

It looks cheaper and takes away from the overall design of the greenhouse

Not very durable and will need to be replaced every few years 
While no option is perfect, acrylic sheets or Plexiglas are optimal if you're after a material that is durable, and protect against harmful UV-rays and is aesthetically pleasing. Fab Glass and Mirror has plexiglass options for any design, at an unbelievable rate.
Order your Plexiglas today and get started on the greenhouse of your dreams!