The Meaning of Modernity: What Makes a Modern Kitchen?
Guest Post by Alana King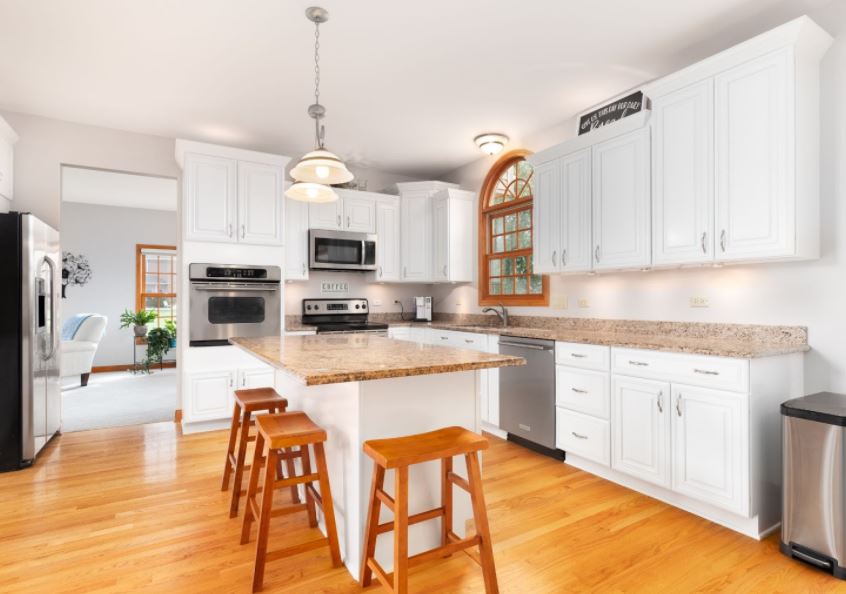 What springs to your mind first when you think of the most essential elements of your home kitchen space?
Are you a person who loves to entertain, has a large or extended family, and a home with a lot of action and busy thoroughfares, or do you prefer to lead a quieter lifestyle?
Many households don't pay mind to all of today's most up-to-date modern conveniences, because not all of these innovations are going to be relevant to every household.
When you're thinking of incorporating new appliances or any other features into your kitchen space, it is best to consider just how suitable that new element will be to your space's core operations.
Let me guide you through all the different parts of your kitchen, and exactly what modern additions can enhance the hearth of your home.
Kitchen sink placement in the design:
When deciding what works best for your modern kitchen, it is best to remember that this space should always be designed with functionality in mind.
Whilst it's trendy for a lot of modern homes to have their kitchen sink or composite trough placed firmly in the centre of an island bench, this set-up may not work for you in your day-to-day.
Think about what designs are most likely to adhere to both your needs as well as the style of your wider home, and that meets some of the best designs for kitchen sinks in Melbourne.
Induction cooktops:
In these days where power and energy saving are worked into modern designs, one of the most sensible choices you can make when it comes to selecting hardware for your contemporary kitchen, is opting for an induction stovetop.
Induction cookers help to save power by only working with an electromagnetic current through a copper wire which essentially turns your pan into the cooker rather than exposing your pan to external heat.
The lack of this external heat means that induction cooktops tend to be much easier to clean,  as well as being much safer to operate, particularly for households with small children.
A decreased risk of burns and fires means that your kids can have a chance to get more creative in the kitchen and develop valuable life skills at a younger age.
Raw and Organic are back:
Many of the designs that are in vogue this season in the world of kitchen design are going right back to basics.
Neutral colours make a statement, whilst also providing you with the opportunity to add your own texture through your interior styling process.
Feel free to play with an array of different materials and textures when selecting your kitchen's furnishings.
Furnishings that are most popular in kitchen spaces include raw timber stools and tables or naturalistic stonemason benches, both of which can help your space achieve an earthy feel that's still very much refined.
These organic and natural materials also innately give a sense of warmth and that of bringing the outside environment inside, which can greatly elevate any kitchen environment.
Open dining and living:
Want to extend the warmth of your kitchen out to your dining room? Well you're not alone!
The forthcoming trend of embracing the flow from the heart of your home and out to your living and dining spaces, appears to be greatly influenced by the happenings of 2020, and a heightened need for cohesion and comfort in our home environments.
Create a welcoming walkway leading out from your kitchen and through to your living and dining areas to ensure that your friends and loved ones can feel closer to you when they're visiting or enjoying a meal.
Ample storage:
Whilst innovative storage has never really gone out of style and has always been a priority when it comes to designing functional interior spaces, the want and need for proper storage will likely be at the forefront of kitchen designs in 2021.
Following 2020, the year of lockdowns, it's safe to say that many of us have rekindled our love for elaborate home cooking, or may have even discovered it for the first time.
As a result, bigger freezers and pantries are flying back in fashion.
Conclusion:
Remember that when you're thinking about your next kitchen design, it's always worth paying mind to the following aspects:
The selection and placement of different appliances in your kitchen
The tones and colours of your furnishings and fixtures
The storage available in both your cold and dry areas
So long as you consider all of these aspects, you'll be likely to craft the modern kitchen of your dreams.
Good luck!