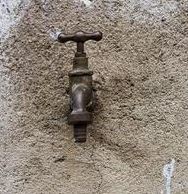 All new Australian houses come with one external tap next to the water meter……..but what other external plumbing might you need?
If you are on an estate with Recycled Water you will have two meters and two taps although they will probably be next to one another.
Here some thoughts about other external plumbing:
Garden Watering
A friend of mine said he needed a tap at each corner of the building and from my experience I think he was pretty right.
Our existing house has one tap at each side and at least one more would be useful.
Ideally these taps should be supplied from either your recycled water supply, or your tank water supply.
Al Fresco / Outdoor Kitchen / Barbeque Area
Whatever you call this area at least a cold water supply will be useful.
If you have a sink, and it is near the other hot water services a hot water tap may also be worthwhile. (If its some way from the house it will probably be a waste of time as it will take too long for the hot water to come through.)
If you have a gas barbeque and you have mains gas think about extending the gas supply,
Mains Gas costs less than half the price of bottled gas and doesn't run out in the middle of a barby.
Back Door and/or Garage Wash Basin
I usually wash my hands in the laundry trough when I come in from the garden but some swear by keeping all garden and garage dirt out of the house.
Outside Shower
I have seen a couple of examples of this where the bathroom has an external door and an outside shower.
It looks really good for summer use. . . Just make sure you have good privacy screening!
Swimming Pool
Supply for topping up, preferably rainwater.

Shower, do you want hot or are you happy just with cold.
Rainwater
See the Rainwater section of the sustainability category for more information on this subject.
What's your most important outside plumbing?
For similar posts see Plumbing
More plumbing information and 24 pages of Check Lists in the