Electrical Planning – Living Rooms / Rumpus Room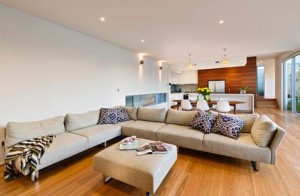 Living Room, Family Room, Rumpus Room………….some houses have one room for all functions.
Bigger houses can have three separate rooms, perhaps even a Parents Retreat!.
As far as electrical planning is concerned the issues are really the same.
Entertainment
Some of the things to allow power for are;
TV,
Sound system,
Foxtel (if you are connected),
PC (for streaming)
Gaming Console.
NBN Box
Wireless Modem
To minimise the cable tangle I prefer to use a power board to the shelves or cabinet rather than plug each device separately into the wall.
With some surround system sub-woofers and rear speakers get a wireless signal or transmit through the mains rather than running speaker cables. . . If that's the case you will need extra power sockets at the back of the room.
Wall Hung TV
If you want a wall mounted TV it is going to be much neater if you have a power socket on the wall behind the TV.
Its most likely that things like your DVD player, Foxtel, Surround Sound, etc will be in a cabinet or shelves on the floor.
You should definitely think about either getting cables pre-installed behind the plaster or at least some conduits for future installation of the cables………..The best outlet height is going to be about 1200mm above the floor as the most comfortable viewing position is straight ahead when you are sitting down.
Other
In addition to the entertainment options you should allow for some spare power outlets for things like:
Table or floor lamps
Power to gas heater or a fan heater for days when you don't want to run the full heating system
Mobile phone charger
Laptop charger(s)
Doing the ironing while watching TV
Point for the Vacuum Cleaner
I would never put less than four double power sockets in a living room with five or six being preferred.
For similar posts see Electrical
More Electrical Planning including 24 pages of Check Lists in the