6 Must-Include Items In Your Preventative Home Maintenance Checklist
Guest Post by Olivia Madison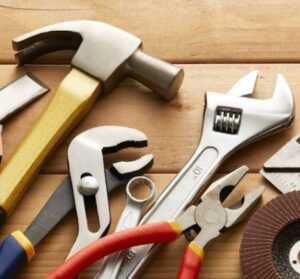 To ensure everything in your home is in good condition and functional, you'll need to implement preventive home maintenance.
While you can't go all out with buying everything a hardware and home depot store has to offer, there are basic tools or equipment that are already helpful enough to get you through effective home maintenance.
Home maintenance is about practising and doing simple chores and tasks daily or periodically to avoid some of the most common household problems.
Thus, repair or cleaning tools are worth having to get the job done right.
This article identifies some of the most common tools and equipment you'll need to keep your home well maintained.
Hammer
One of the essential tools in a preventative home maintenance checklist is a hammer.
Each type of hammer also has a different purpose.
Regardless of its type, you can do so much with it, such as for general carpentry.
For instance, you can use a hammer if you need to fix damage to your furniture, fix a protruding nail in your house, or ensure that the decorative items on your wall are hung properly.
In addition, hammers are useful in maintaining your roof.
If the damage is not that major to call for a roofing re-do, you can use a hammer to remove or fix damaged shingles.
All that's left to do is to get the required materials from a store that offers Sydney roofing supplies to fix your roof.
Ladder
A ladder is a beneficial tool when cleaning and checking damage in your house.
With a ladder, you can reach higher areas in your home when doing the inspection and home maintenance.
For instance, a ladder is helpful when you're cleaning your windows, repainting your walls, getting rid of cobwebs, and accessing your roof's gutter to remove leaves and dirt.
Vacuum Cleaner
A vacuum cleaner is another item that's very important to have in your preventative home maintenance checklist.
Every day, you may want to vacuum the high traffic areas of your home, like your kitchen and dining area, to get rid of crumbs and food droppings after every meal.
Doing so will prevent dirt build-up on your floor or carpet, allowing you to avoid ants in your house.
For the rest of the house, a vacuum cleaner is also essential, as you need to vacuum your bedrooms and living rooms at least once a week to keep them clean and ensure that your rugs and carpets are in good condition.
Hence, go for a vacuum cleaner with multiple attachments.
You can easily change the attachment according to the dusting chore you need to do for the day.
When you vacuum your home, you're keeping it clean and free from dust or dirt.
This way, you can also keep your family healthy, as you can avoid allergies due to dust.
A Good Sponge
Sponges are very versatile and essential when maintaining your home.
You can use it to clean the interior of your home, exterior, and even small and delicate areas.
For instance, in the bathrooms, if your tiles are too delicate for a brush, using a sponge is a good alternative. Giving it that good clean can avoid the build-up of moulds and mildew, which can be damaging to your home and health.
With a tool as small and straightforward as a sponge, you can do so much in your effort for preventive home maintenance.
Wrench
A wrench is also an essential tool in your home maintenance checklist.
A wrench can be used to tighten bolts and nuts.
This item is also useful to ensure your plumbing system is functional and in good condition, as you can use a wrench to dismantle taps and unscrew or tighten your pipes and pipe fittings.
As there are different types of wrenches, get the one that fits your home maintenance needs.
Pliers
As a multipurpose tool, pliers are essential to have in your home maintenance checklist, especially when doing electrical or electronic work.
In general, you can use pliers to cut, strip, or bend wires, hold objects, as well as bend and twist thin metals.
By having pliers at home, you can easily do your basic maintenance tasks.
Conclusion
Having the right tools is crucial to keeping your home well maintained.
The list above are only the basic tools, but they're already great to have in your preventive home maintenance checklist.
By having the right equipment, you can easily do the tasks that are required to avoid any damage to your house.
This way, you can finally be on top of keeping your home well-maintained.
Author Bio: Olivia Madison is the founder of a home repair service company. She's been working in the industry for five years now. When she's not helping her clients with home repairs, she enjoys writing on her home maintenance blog. She's also passionate about helping her clients with proactive measures, going beyond fixing their homes.