A Step-By-Step Guide To Building A Pool In Your Backyard 
Guest Post by John Davidson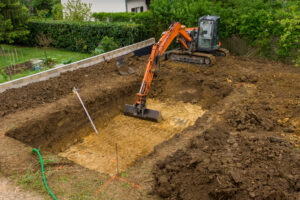 Building a pool in your backyard could be challenging if you don't have the necessary knowledge, skills, tools, and equipment to construct one.
These are essential factors to ensure that its structural integrity can weather the tests of time, erosion, and other issues.
For that purpose, you may need to hire a reliable and experienced contractor.
In addition, knowing the basics of pool construction is necessary so you could observe whether or not the standards and quality of your pool construction are met.
For that purpose, here's an article to guide you. So, read on!
1. Talk To A Swimming Pool Inspector
Before digging a hole for your pool, you may need to secure some papers to ensure that your project follows legal standards.
You need to comply with building construction requirements from your local government and the homeowner's association you belong to.
If you're in Victoria and its nearby areas, you may need the help of a certified swimming pool inspector like Pool Compliance Victoria and others.
They will explain to you the Australian general swimming pool construction standards including but not limited to:
a minimum of 1.2-metre-high fence around the pool
no trees and other structures near the pool
a self-closing gate shall be present
child-proof safety railings and barriers should be present
2. Choose A Space 
Although your contractor will do the work, you may need to monitor the construction regularly.
It is also your decision which area you want your pool to be constructed.
Choosing one should depend on the available space and the amount of sunlight that the area receives.
If the space is limited, you may opt to have plunge-type pools because they maximize the backyard deeper than the average pool type.
On the other hand, regular and large pools are possible if you have a vast area.
Pools in well-lit areas typically have the right temperature and are ideal for swimmers who want to dry up.
In addition, you could see the quality of water in these spaces, so you could clean immediately if necessary.
3. Design And Dig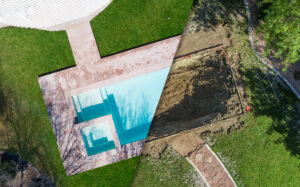 After identifying the area, you could start suggesting the pool design.
If the pool contractor has templates to choose from, you may select among them.
Depending on your budget, you may choose low-cost pools or more extensive types.
Also, consider the shape and slope of your space for aesthetic purposes.
You may also pick the dimensions.
Will you follow the standard sizes, such as 3 m by 6.1 m and 4.6 m by 9.1 m? . . . or will you experiment with new designs?
In doing so, keep in mind that the more complex your pool design is, the higher its cost will be.
After picking the design and finalizing the layout, the workers may start digging.
4. Constructing The Foundation 
If you're planning for a concrete pool, ensure that the contractor has evened out the ground.
You may decide whether to have a flat or sloping bottom.
Either way, make sure that they provide steel support to the walls and floors.
Then, monitor the pouring of the concrete.
5. Install The Plumbing Fixtures 
If you want a small pool, you could install the necessary plumbing fixtures yourself.
In many cases, you'll work on pool filtration and water circulation, so you need to install pumps, drains, skimmers, and valves.
However, larger pools may need a qualified plumber as the pipe connections may be too complex to handle.
6. Pour Concrete On The Walls And Floors 
You could rent a cement mixer to make the process easier for this step. In addition, you need to ensure that every space is filled in and every part of the concrete is consistently mixed.
Once finished, wait for a couple of days for the concrete to cure.
7. Fill The Pool With Water 
After drying up, you could rent a water truck or connect your pool to a water source on your property.
When doing this, you should check for leaks so you can patch them early and avoid further trouble.
8. Treat Your Pool 
You may also treat your water before you use your pool.
This could be a way to get rid of bacteria.
You can buy a water testing kit to know the pH level of the water in the pool.
Then, aim for a 7.4-7.6 pH range.
You may contact a water treatment company for better results, especially for bigger pools.
Wrapping Up 
Having a pool in your backyard adds beauty and value to your property.
In addition, this may be an excellent way to cool off during hot seasons.
If you plan to build one, you may start consulting a pool inspector and a pool contractor.
That way, you're assured that the construction will be safe for decent structural integrity. T
hen, you may consider choosing among the various designs and types to make the most of your pool and backyard space.
John Davidson is a construction consultant. He shares his knowledge about building construction through webinars and blog postings. John enjoys his free time playing musical instruments and basketball.