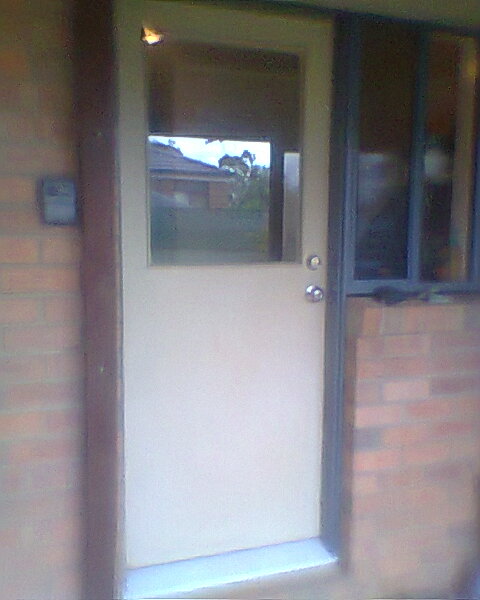 Most people spend a lot of time thinking about their front door. . . . . but forget about their back door.
There seems to be a bit of a convention for back doors.
Conventional Doors
Quite often if a conventional door is used usually have a half window and usually only have a single simple lock.
Unfortunately criminals know that an easy way to break in is to break the small window, reach in, and unlock the door.
It's not as though you really need the window as most back doors are in the laundry which isn't a room you spend a lot of time in, and it usually has a window.
My preferred approach is a solid back door with two locks fitted at least 300mm apart.
One a deadlock, as I am always a bit suspicious about Construction Locks
Not only is this more secure, and offers better insulation but its likely to be slightly cheaper. Also you can always put a couple of coat hooks on the back of the door to hang your gardening clothes.
As you can see from this photo of a previous back2 door I specified the double locks but didn't think to specify 'no window'.
My latest houseI is a plain door!
Full Length Sliding Glass Doors
When looking at a display home you might find the builder uses 'Patio Doors' for the laundry.
I think these should be avoided.
My suggestion is you should ask for a solid hinged door!
More on doors including 24 pages of Check Lists for your new house choices in the

'Selection / Pre-Start Guide'