Rendered Foam walls are becoming much more common, particularly in the upper floor of 2 storey homes. They offer a real advantage in situations where it would be difficult to provide adequate suppport for a heavy brick wall (For example when the upper floor needs to be set back from the ground floor)
If you are worried about strength you need to be aware that the real strength of the house is in the frame. (see: House Construction – The Frame)
Construction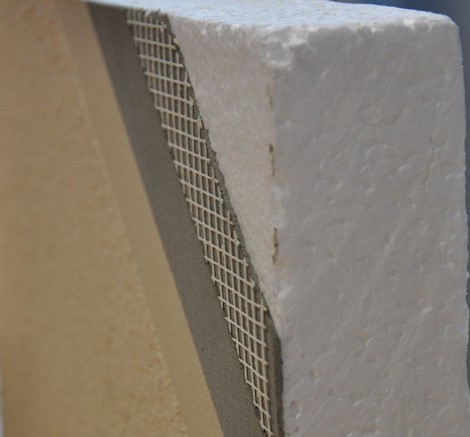 The Foam boards, which are manufactured with an external mesh face, are fixed to the frame with special galvanised screws that incorporate spreader washers.
Joints are sealed with a polyurethane foam and have mesh jointing tape.
External corners are reinforced with metal strips.
A minimum of 5mm of  acrylic render  is applied, normally in a three layer system.
Polystyrene Foam
There are 2 different types of foam used in this construction method:
Expanded polystyrene( EPS) – Good thermal performance but limited impact resistance/structural strength.
Extruded polystyrene (XPS) – Similar thermal performance and looks similar  but the production method is different which results in increased impact resistance and structural strength. Higher cost
Insulation values for the various board thicknesses are:
50mm    – R 1.2
75mm    – R 1.8
100mm – R 2.4
Final Thoughts
Although there are some advantages in this system it does require careful detailing and construction otherwise leakage can occur damaging your house.
There has been a lot of publicity recently about flammable panels in multi storey blocks. Although the problems seem similar they are less of an issue in houses. (The issue in apartment blocks has been related to high speed spread across the surface of the panels to other flats. On a standard house the render should protect the insulation from external flames. If flames penetrate the plasterboard, from the inside, it is likely that the occupants will either have already evacuated, or be dead before the insulation ignites)
The advantage of masonry on the lower part of the house is that it is less likely to be damaged by the bumps and bangs of daily life. Once the wall is above head height damage becomes less of an issue and the rendered foam board should be fine.
I'd prefer XPS to EPS.
Although the insulation values are good the builder will most likely want to save the cost of the insulation batts in the frame. If you ask for the wall to include insulation batts you will have an exceptionally well insulated wall at very little extra cost.
For similar posts see Insulation
For more about house design see Choosing a House . . . A new E-book for only $4 to help plan your new house