9 Brilliant Ideas To Upgrade Your Garden Or Lawn
Guest post by Hannah Jones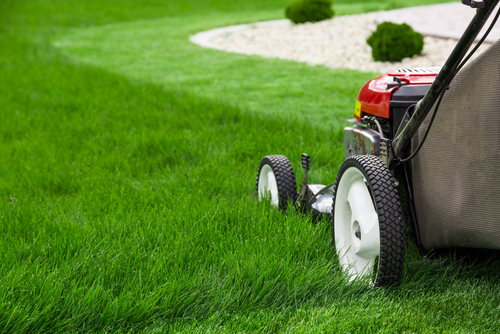 Most homeowners like to upgrade their lawn for it to have a fresh and new look.
A beautifully done garden will instantly make your house look well maintained.
Spending some time can add points and value to your home.
From time to time, your garden will needs a little TLC so here are some brilliant ways on how to upgrade your garden or lawn:
Upgrade your shed
Most homes have garden sheds in their backyard, but not all homeowners do use their sheds.
If you are one of these homeowners, perhaps you can upgrade it into a little guesthouse, or even a playhouse for your kids.
Start by cutting and shaping your lawn.
A garden will always look nice if it is cut and shaped.
Take away any unnecessary weeds and give your lawn an excellent shape.
You can go basic with a square, following the natural shape of your perimeter, or go adventurous by making your lawn circular while filling out the edges with garden stones.
Shaping is cost-effective improvement as you can do it all by yourself.
Do remember that your lawn is one of the first things that home viewers, buyers, or visitors will see upon arriving at your house.
Experts have found that 24% of owners found garden issues when buying a home, and most of these issues centered on ill-shaped lawns.
Plant flowers
If you feel that your garden is looking a little bit bare, you could add more greens and color to it by planting. I
t can easily lighten up the feel of your home, and gives your area a more relaxed feeling.
You can mix and match with pots and flower beds too.
A bonus tip would be to try out colorful native baskets with tassels or pom poms that you can add to liven up an otherwise dull-looking lawn.
Make space for a vegetable garden
There are numerous vegetables like tomatoes, spices, herbs, and eggplants that you can grow even with a small area in your back garden.
Doing this adds to the sustainability of your home as well.
Not only does growing your vegetables give an upgrade to your garden, but it also helps your family live a healthier lifestyle.
You are sure that your plants are chemical-free and organic.
Make space for a tree
Planting even just one tree in your garden will make it have a more cozy feel.
It also controls the heat by adding up some shade.
The tree will make you want to hang out in your garden even more.
You can choose a fruit-bearing tree so you can enjoy the harvest later on.
Having trees will also make your home look more beautiful at night, as you can hang up tree lights/fairy lights/rattan ornaments to give your house a very boho-chic and relaxed ambiance.
Clean your fence
Cleaning your fence sounds like a pretty obvious thing to do, but believe it or not, most landscapers will say that this is one of the most neglected outdoor chores of homeowners.
We often forego cleaning the fence, thinking that we don't need to, as it can get dirty easily anyway.
Experts agree that washing your fence regularly will help give your garden the upgrade that it badly needs.
If your wall is in dire need of a paint job or some carpentry, a fresh new paint and color will jazz up your garden.
A bonus tip is to add vertical gardens using hanging corianders, tin cans, etc., on your fence.
Use colorful throws and cushions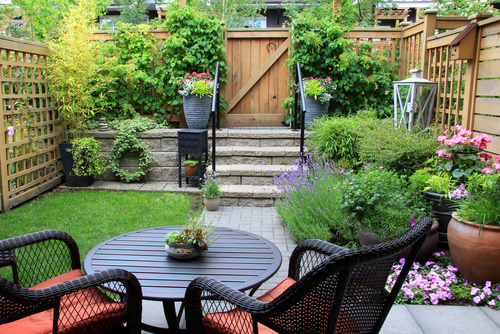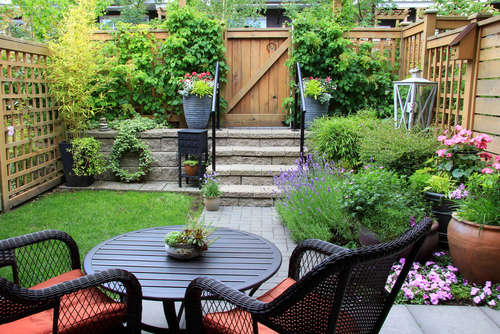 Your outdoor space is not meant to be dull and monochromatic.
A perfect contrast to greens and your brown furniture are always bright, colorful and playful cushions.
If you are not the type to keep flowers in your home, then doing this is one of the easiest ways for you to add some color.
Install a garden hammock
Garden hammocks are a brilliant idea for the following reasons:
They usually come in different colors, so it adds life and variety to your garden.
If you have trees and shade, you now instantly have a place to read a book and relax in the summertime.
Kids love it too, as they can turn it into a swing.
It can serve as a part of an outdoor  entertainment area.
Hammocks are usually inexpensive, so purchasing one will not break a hole in your pocket, allowing you more spare change to accommodate other gardening projects as well.
Up-cycle tin cans, drawers, and even an old vintage bike as a planter
Cans are perfect for pots and planters.
You can either keep the original labels on the can or choose to repaint them with your designs – and even ask the kids to help out.
It will be an enjoyable project to do. If you've got an old bike around the corner that is no longer in use, you can hang flower baskets on it.
These ideas can help your garden have that breath of new life that it might badly need.
Even a simple change that you can do yourself will make a significant improvement on the appearance of your garden.
All you need is a little patience and hard work, and it will be transformed into your very own outdoor haven.