Six Bathroom Renovation Rip-Offs and How to Avoid Them
  Guest Post by Asad Shoaib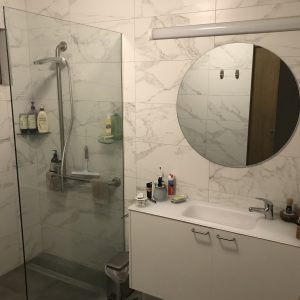 A bathroom renovation can add more value to your home if you carry out the entire process successfully.
However, it can also turn into a nightmare if you don't pay heed to little details.
The more aspects you take into account, the more easily you can avoid mistakes and disasters at the end of the day.
Here are six bathroom renovation rip-offs mentioned which you should learn to avoid.
Budget 
The amount of money you spend on your bathroom renovation project must neither be too large nor too small.
A lot of people don't take their budget requirements seriously so they end up facing financial crises or significant losses.
So, you must have a clear idea about the exact amount of money that your bathroom renovation requires.
To be more precise, you must plan everything from the designing of the bathroom to the layout. You can also get multiple quotes to have a better cost estimate.
DIY
Some homeowners prefer to try their skills to be able to save a few dollars when it comes to renovating the bathroom.
However, the bathroom is one of the most important parts of your home so you would never want to regret later if anything goes wrong.
Basic DIY such as replacing tap washers is one thing.
For a complete bathroom renovation, it is better to call a professional whenever you feel the need.
It might require investing more money but it can save you from facing critical damages.
Big Changes
Sometimes your bathroom needs to undergo a little change to look fresh as a new one.
So, you can avoid big changes by replacing the vanity, replacing old tapware, and installing new wall tiles to make your bathroom modern and updated.
It would help save a significant amount of time and money that you can spend on any other area of your home that is not structurally sound.
However, if you still intend a proper renovation, you must take help from a professional.
Trends
Trends come and go so you must not let yourself get obsessed with them.
Instead, you should prefer functionality over trends to make your renovation last longer.
It is also advised to choose simple and classical designs that never get outdated.
The style of your bathroom must match with the rest of your home.
It must look like a part of your home if you don't want to kill the vibe.
Spacing
You must pay attention to proper spacing to make your bathroom comfortable for everyday use.
It is better to leave the decorating and looks for later.
However, if you don't care about the placement of plumbing fixtures beforehand, you might get into huge trouble.
Material
The material you choose for your bathroom renovation can make or break your experience.
If you don't want to get stressed out, you must consider the quality of the material you buy for floors, walls, top, vanity, and other major parts.
Since you invest a huge amount of money in bathroom renovation, you must make sure that the material can stand the test of time.