5 Must-have Items for your Home Garage
Guest Post By Petar Bekarovski
The garage is the favorite part of the home for many people.
Men especially love spending time there because they feel like they are on their own turf.
They know where everything is placed, control the situation, and the equipment stored inside helps them handle their business perfectly.
Men are builders, creators, and they love having an ideal personal workshop filled with all kinds of things.
If you don't like how your place looks at the moment, then you might need to do some remodeling.
In this article, we're sharing some tips to help you understand what the essential items to have in your garage are.
Follow up if you want to know what you're missing and what you need to purchase and install for having a top-notch garage!
1. Linoleum flooring
The type of flooring is critical for many reasons.
When the house is being built, the contractor will often leave the flooring as it is – probably concrete as a final finish.
Concrete's fine as it is durable, strong, and nearly unbreakable, but it's not perfect.
Installing linoleum flooring on top of it will make the place truly perfect.
The linoleum looks stunning and can be decorated depending on your wishes.
On top, it is easily cleaned even if you spill oil on it.
It will give the interior a much better look and is much simpler for maintenance than concrete.
2. Professional toolbox
A garage without tools is like the ocean without fish. . . It simply makes no sense.
Everyone must have a professional toolbox in the garage.
There are many types of toolboxes, and you should choose one that's durable, elegant, and has enough space for your most valuable tools.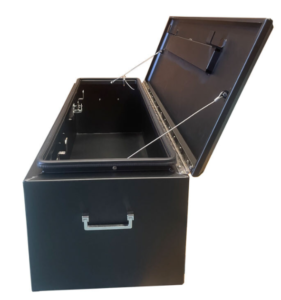 Look for those made of stainless steel, aluminum, and other durable materials.
If you plan to move it from one place to another frequently, get an aluminum one, as they are more lightweight, like this caravan toolbox by OZY that is made remarkably.
If you're not planning to move the toolbox, you can choose a more robust option, like a steel one.
These are much heavier, and once you place them in the garage, there's no more moving around.
Have that in mind before purchasing anything.
3. Tools for every possible occasion
Once you get the perfect toolbox, it's time to fill it up with the best possible tools.
Imagine wanting to work on your car, but you don't have the appropriate tools.
Having an oversized garage and still need to go to the mechanics is devastating, especially if you know how to fix the car on your own.
That's why you must go to the store and get everything you need that you don't have in your garage.
Make sure you get all the necessary tools, but also those you love working with.
Also they are of the appropriate size so you can store them inside the toolbox.
Getting yard equipment won't fit inside, and you'll have to find another place for them.
4. Hooks, shelves, and brackets
As we just mentioned, you'll have to get some trimmers, loan mowers, and various other tools used in and around the house.
They need to be placed somewhere – you can't just toss them on the side by the wall.
A good-looking garage is neatly arranged and maintained.
A set of wall hooks, brackets, and shelves will do the job. Install as many as you can, and be sure that you'll never have enough of them.
You can hang all kinds of items on them, and the shelves will be there to store things you're not using frequently.
You can even set a small corner with family pictures and decorations to make a more pleasant atmosphere.
5. Perfect lighting system
Most of the tasks men do in the home are done in the garage.
That's why the perfect lighting is essential.
You won't always work in the daylight, so you must install the proper lighting over your head and have a few portable lights for situations when you'll need to look under the car.
Make sure the lights are bright enough, adjustable, and won't cause a headache.
Choose light bulbs and a type of light that are going to fit your needs perfectly.
Conclusion
These are some of the most valuable items you must have in your garage, especially if you love spending time there.
Tools for every occasion, proper storing for all things around the garage, and excellent lighting and flooring.
As you can see, we covered all sides of the garage, the walls, the floor, and the ceiling.
With these installations, your garage is going to look like a scene from a movie.
We all want the best for ourselves, and you surely deserve to feel good while spending time in the garage fixing or creating something for yourself and the family.