Sustainability Modifications to a Standard Design
Lots of people say you can't get a sustainable house from a standard builder . . . . but I disagree!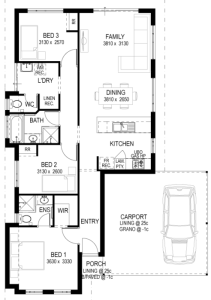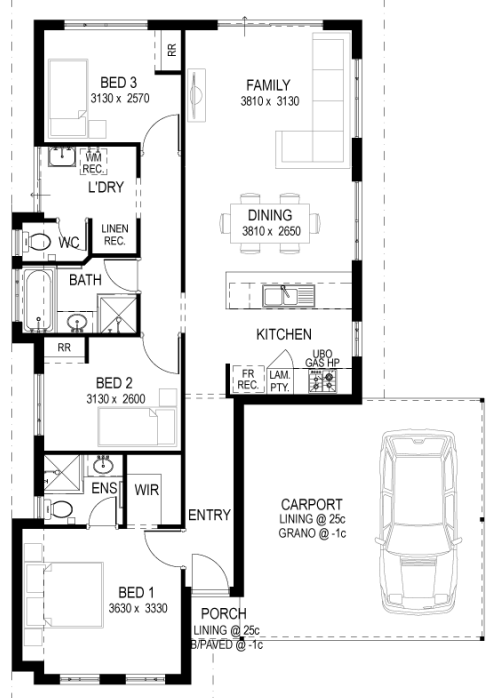 As an example I have started with this standard floor plan from the 'MYPAD' design of HomeStart, Perth first home buyer grant specialist.
Here is how I would look to get most sustainable performance from this layout.
Orientation
The best Orientation will be with the house facing East.
That means the Family Room, Dining Room, and Kitchen will all face North and be able to look out onto a garden.
The Bedrooms, Bathrooms, and Laundry will all face South and act as a 'Buffer Zone'.
If your block faces East you will be able to get similar performance by asking the builder to 'Hand' the floor plan (build it as a mirror image)
Shading
In order to keep the Summer sun out of the house, while letting the winter sun in, I would look to provide approximately 1m of Shading to the north facing windows.
This could be either by having the house built with eaves or building a pergola after you move in.
Window Locations
Windows that face East, and especially those that face West, can be a real problem as they get too much sun in summer and hardly any in Winter.
The window in Bedroom 3 would be best relocated to the other external wall.
The Family Room window at the end of the house would be better deleted altogether. There will still be plenty of window area and with one less window the layout will actually be more flexible!
Although the Master Bedroom windows will face East the application of a reflective film, after you move in, will prevent the room overheating in summer.
Window Sizes
Both bedroom windows would be best with a sill at least 1m from the floor level. This will give adequate light but the Smaller Window, and more solid wall will result in better thermal performance.
Laundry Door
The Laundry door in this design is a patio door. By changing to a solid wall with window and conventional door you will significantly reduce the heat transfer.
Overall Effect
Making alterations like these to a builder's standard design allowed me to increase the energy rating of my last home by the equivalent of 1.5 Stars!