Doing Something About Homelessness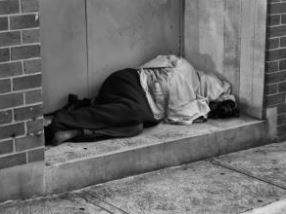 Normally I post something on a Friday that's funny or unusual . . . but this week it's different!
Did you know there are 105,000 people who are homeless in Australia . . . . WHAT THE   …………?
44,000 of Australia's homeless are young people aged under 25 years . . . . WHAT THE   …………?
The average age a young person flees home escaping family violence is 10 years old.  . . . . WHAT THE    …………?
Young people experiencing homelessness are desperate to get a job. . . but the major reasons they can't get one are because they don't have the skills or education, and they can't get work experience.
Something I do to help with this problem is deliver food 3 days a week for a Social Enterprise called STREAT 
STREAT exists to train, and support, young troubled people in hospitality skills, so they can get experience, bring some stability to their lives, and improve their chance of getting a job.
To help STREAT get bigger, and support more young people at risk of homelessness why not support the Crowd Funding Campaign at chuffed.org/project/streat ?
Make a cash donation or take advantage of one of the great vouchers . . . every dollar will help to fight homelessness.
Photo courtesy of the Big Issue