How To Select Bathroom Furniture
Guest post by Stephen Tasker
It's one of the smallest rooms in the house – and also one of the easiest to refresh and renovate.
Your bathroom can look totally different with new bathroom furniture.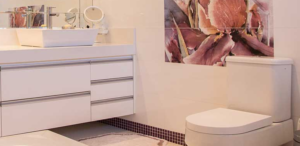 Read on for our tips on how to change up the look of this room while minding your budget.
Bathroom updates don't have to be scary or as expensive as you thought!
Look at your storage needs
Storage is probably the number one need listed by hopeful bathroom remodelers.
Even a single person can quickly overwhelm the space with all the things that just need to be in the bathroom.
How many can you think of, right now? Linens and towels? Of course,
Shampoo, conditioners, lotions, bath soaps, hair styling products? Definitely.
How about hair dryers, hair styling tools, and shavers?  Makeup – all the makeup. Extra paper products. Every single dental hygiene product. Packs of razors, bars of soap, cotton? Candles, bubble bath? Cleaning supplies?  What about the linen hamper?
There's a lot to wrangle – and fortunately, bathroom furniture is all about storage.
Once you've done a mental inventory of all your items, look for vanities and mirror cabinets that will help you tuck away all your linens, towels, and extras neatly.
Deep drawers can accommodate tall bottles, styling tools, and other bulky items, while under sink storage will help you organize your towel stacks and cleaning supplies.
A good bathroom furniture supplier will have the selection of styles and sizes that will help you organize it all, beautifully.
Consider your style
Bathroom furniture can make a huge impact in your space.
Are you yearning for a sleek, minimalist environment where you can feel calm and serene as you soak?
Does a more rustic look that will complement your plants and natural aesthetic sound like you?
Consider finishes and colour when deciding on your bathroom on a budget.
Wood or ceramic vanity tops offer completely different looks.
White is classic and can make a small space feel more spacious.
Even the size and shape of your vanity top can set the tone for your new bathroom look.
Fortunately, this is not something that you have to decide upon from tiny online pictures, at least if you live in Brisbane.
The Bathrooms On A Budget showroom is a great place to visit and see all these ideas in person.
It's always a good idea to take some ideas along on your shopping trip by saving photos on your phone.
Likewise, take some snaps of your favorite designs while you're there.
These will help you decide on the best look for your space once you're back home.