Latest Innovations in Laminate Flooring
Guest Post by Ann Zheng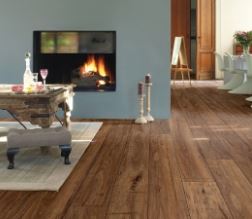 As a durable and stylish flooring solution, laminate flooring has always been a popular choice for homeowners or residential property investors who want to increase their property value.
Although you may be surprised to find that it has only been around for a few decades, technology has driven tremendous advances in developing new generations of laminate flooring in recent years.
Today, we are going to show you the latest innovations in laminate floors.
Water Resistance
In the past, laminate flooring would be a disaster in high-moisture environments, and you would need to clean up a water spill right away to protect your laminate floor.
That is no longer the case.
In recent years, the latest laminate floorings, such as Quick-Step laminate and Krono Swiss laminate, have launched laminate products that are water proof and you can install in your kitchens or bathrooms. 
Easy Installation
With the development of click lock system, such as Uniclic Click system from Quick-Step, a lot of people can install their laminate floors by themselves.
The floor of an entire room can be finished in only a day. And this will largely reduce the cost of renovation.
Design
The use of super realistic printing technology has given laminate a new level of authenticity while avoiding pattern repeats. With the natural colouring and textures, customers can't tell a difference between timber floor and laminate floor.
Stain Resistant
Thanks to the new water-resistant technology that is applied to the outer wear layer of the laminate flooring, it has become even easier to clean and maintain.
The surface of the laminate flooring is completely sealed, and the finish coating protects the floor from almost all stains and dirt, which can simply be wiped off with a damp cloth.
Scratch Resistant
Laminate flooring has always been durable compared to timber flooring, but modern technology is significantly increasing the laminate flooring's resistance to scratches and indentation, keeping the floor looking newer and longer.