How Can a Construction Surveyor Help You in Abiding by the Law?
Guest Post by Albin Davis
'Land surveying' has been a critical activity for centuries all over the world, owing to its multiple benefits.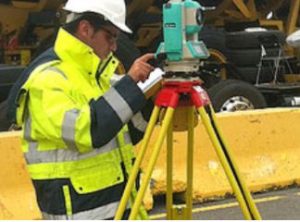 Whether it's a small piece of land that needs to be resold or a large parcel of land that has title issues, a land survey can help to meet various requirements and resolve various problems regarding the land.
Professionals carrying out this activity independently or as a part of a firm are called 'land surveyors'.
They have knowledge and experience in different kinds of land surveys. They can guide you in understanding which survey can suit your goals. 
A construction surveyor is the one who conducts a construction survey which is a type of survey that becomes essential when construction work is going on.
Whenever a property or any structure gets built, the construction company and the engineer involved in the project commission the construction survey.
A land survey firm, a specialised construction survey firm, an independent land surveyor, or an independent construction surveyor can be approached for this survey.
What Exactly is a Construction Survey?
Construction projects involve a great deal of investment and time, and so, every step should be taken diligently.
A survey can help the team working on the project to acquire the relevant information, such as measurements, location, topography, and condition of the land. 
The surveyor marks reference points on the land by using the necessary equipment, for example, compass, GPS, tripod camera, and drone.
These points prove to be very useful to the civil engineer, site supervisor, construction workers, and other parties.
The construction company and civil engineer can clear all their doubts about legal boundaries, encroachments, and easements through the results of the survey. 
A construction survey is carried out for all scales and types of projects, including but not limited to, buildings, roads, bridges, dams, and parks.
This survey is a vital part of town planning and rebuilding the city infrastructure.
The construction survey is conducted at the beginning of a project.
Why is Construction Surveying Important?
Real estate sector is one of the important and growing sectors of any economy as it leads to not only the construction of various structures but also a rise in the employment rate.
With an increase in business activities, affordable housing options, and recreational activities, the number of properties built have also increased. 
So, ensuring the quality of the construction is essential for making the properties safe and comfortable for occupants.
The accuracy of measurements can be achieved with the help of a construction survey.
Inaccurate measurements can lead to the possibility of encroachments arising in the future. 
As the surveyor marks the points with the help of markers and places boards on them, tasks of the engineer, site supervisor, and construction workers become easy.
Construction surveyors even check numerous elements, such as surrounding area neighbouring structures, and underground infrastructure.
How does a Construction Surveyor Work?
As indicated earlier in this article, construction surveyors can work either independently or in a survey firm.
They can opt to perform only a construction survey or multiple types of land surveys depending on their qualifications, skill set, and areas of interest.
A construction surveyor obtains the required knowledge and license by completing their studies, assisting an experienced surveyor, and proving their abilities.
Construction surveyors carry the necessary equipment, which is popularly known as total stations, with them for performing the survey.
They:
Measure angles and distances by using the concepts of geometry and trigonometry.

Stay abreast of the laws and regulations regarding the land, construction, and more.

Know how to interpret constructions plans, architectural designs, and maps.

Coordinate with the builder, civil engineer, and site inspector during the whole project. 
Construction surveyors enable engineers and construction workers to make water and drainage systems as well as create the utility lines for electricity, gas, and telephone properly.
Once the structure is built, they examine it thoroughly to ascertain that their inputs have been considered.
Wrapping Up
Construction surveys are crucial to make sure that the new structures are built in accordance with the local and national rules. Individuals, real estate developers, government departments, and other parties appoint construction surveyors.
You should hire reputable construction surveyors or land surveyors for your project.