Small Bathroom Problems: How to Increase Storage Space with Style
Guest Post by Monika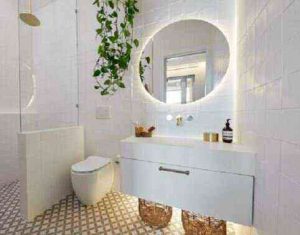 There's so much going on in a bathroom that finding the space to squeeze in storage can often be tricky.
But storage is super important, especially if it's a really tiny bathroom we're dealing with.
Leaving your hygiene essentials and personal care products out in the open contributes to clutter and makes an already small space feel even more cramped.
Luckily for you, there are plenty of smart ways you can add storage and make even the smallest of bathrooms serene and clutter-free.
Do Get a Vanity
As far as bathroom furniture goes, a vanity is the most hardworking piece you can include.
It offers a great amount of storage space, some practical counter space and can be a unique opportunity to add some stylish personality in a room that's mostly about utility.
However, owners of small bathrooms can feel reluctant about including a vanity in their setup.
After all, a bathroom vanity is a piece of furniture that can take up a significant amount of floor space. . . but that may be the case if you go for a traditional vanity unit.
In fact, you'd be surprised by the amount of bathroom vanity units specifically designed to solve small space problems.
For instance, there's a little something called a wall-hung vanity.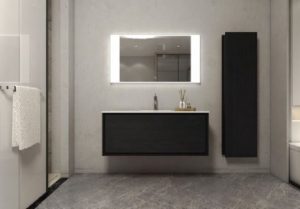 Wall-hung bathroom vanities are directly mounted on the wall, and as such, they leave the floor space beneath open.
You can utilise this space for other purposes or simply leave it empty.
By leaving it empty, you'll manage to keep your bathroom feeling open and airy.
Then, there are bathroom vanity units with slim profiles.
These units are usually narrow and long, occupying more wall space than they do floor space.
As a result, you can store more things along your walls without affecting the freedom of movement in the bathroom.
Because they are long, these vanities also offer more counter space which you can also use for storing your things.
But If You Have a Pedestal Sink – Create an Improvised Vanity
Of course, not every bathroom can fit a vanity, even if it's big enough. For instance, if you have a pedestal sink in place, there's no possible way to fit a vanity – or that's at least what you think.
With a little ingenuity, you can include a vanity without having to remove your pedestal sink.
For one, you can try to build a DIY vanity around the sink itself.
But if this seems like a complex project for you, you can simply sew a skirt that matches your bathroom's colour palette and attach it to the sink.
Then, you can fit a few storage baskets or racks underneath where no one can see them.
A Mirrored Medicine Cabinet Can Go a Long Way
A mirror is obviously a non-negotiable element to include in a bathroom.
But you can make the mirror work even harder by picking one that's incorporated into a medicine cabinet.
If you're worried that a medicine cabinet will ruin your sleek bathroom design or hit you on the head when bent over the sink to wash your teeth, there's always the possibility to have it built into a cavity inside the wall.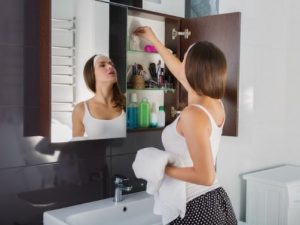 This way, it won't stick out hideously, and your bathroom will have an undisturbed look.In addition to being highly functional, medicine cabinets can add a decorative touch to the bathroom as well, just like the vanity.
Pick a cabinet made of a rich hardwood such as oak or walnut that will bring some beautiful raw texture into the room.
A sloped finish on the edge of the mirror adds a subtle accent to the medicine cabinet while enhancing the mirror with polished elegance.
You can also keep your mirror frameless if you like crisp lines and precise angles.
Don't be afraid to go for a big mirrored medicine cabinet.
The mirrors presence takes off some of the bulk from the cabinet.
Plus, the bigger the mirror the more light will bounce off the space, and this is one of the tricks you can use to make a small bathroom appear bigger than it is.
Mount Caddies on the Walls of Your Shower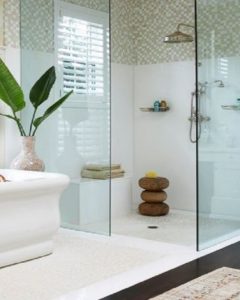 Regardless whether you have a bathtub or not, you'll probably agree that your shower space takes up a significant portion of your bathroom.
The walls around the shower are usually left empty because it's not practical to hang something that will become wet the minute you hit the shower.
However you can use the walls to store the products and items you commonly use while in the shower.
You simply need to find some waterproof caddies made of plastic, stainless steel or some other type of non-corrosive metal and mount them on the shower walls.
This way, you will keep your shower essentials off the shower floor or bathtub and contribute to a more orderly look in the bathroom.
Plus, having all these things within easy reach can save you some time and effort when you're hurrying to get ready in the morning.
If you have a glass screen that's shielding your shower space, you can simply hang a caddy over its top.
This way, you don't need to drill holes in the wall or use glue to fix the caddy.
Accessorise With Cute Storage Baskets
Storage baskets are a great way to add more storage space in the bathroom without spending a lot of money.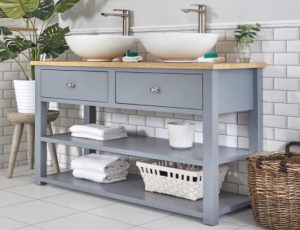 You can use them to store everything from laundry to clean towels and toiletries.
If you're going to place them on the floor, choose tall and narrow baskets.
Shallow and long baskets can be conveniently tucked underneath a wall-hung vanity or a claw-foot bathtub or some other tub design that features legs and is elevated off the floor.
You can also mount these baskets conveniently on the wall where they will take up even less space.
Woven wicker baskets are a particularly cute option as they add an earthy warmth to the space.
Slimline Wall Shelving Can Have Decorative Potential
Slimline shelves are always a good idea to add extra storage in a small space.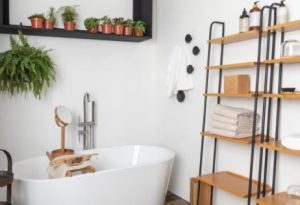 If you already have your storage needs met with a bath vanity or medicine cabinet, you can also use these shelves for displaying some decorative items.
After all, the bathroom can use a personal touch no matter how big or small it is.
Consider placing some lovely scented candles that will add colour and help transform your bathroom into a spa whenever you need some unwinding.
Use the Door to Hang Hooks or Shelves
If you don't want to damage your walls or wall tiles by installing hooks and shelves on them, consider using the door for the same purpose.
Mounting a simple rack over the door's top can be a great solution for storing robes and towels.
You can also attach a few shelves on the backside of the door or mount shelves above the lintel.
Just keep in mind, that items placed on these shelves may be too high to easily retrieve.