Practical Completion Inspection
The Practical Completion Inspection (PCI) is probably the most important inspection, your chance to identify any faults and get them fixed before handover.
It's a lot simpler to get them fixed before you move in!
If you have employed an architect or project manager for the whole project, or you get an inspector for the PCI only they should run the whole exercise.
If not it will be up to you.
Procedure
The normal procedure is to meet with the site supervisor and go around the house noting any defect.
The site supervisor, will then normally put a red sticky paper dot on any problems and record the defects. You then counter sign the defect list.
The builder should attend to all defects in about 10 working days so handover can occur.
Preparation
To make sure you are prepared here is what you should have for the inspection:
A copy of the contract and the drawings so you can tick things off.
Checklists (For only $4 you can buy the anewhouse PCI Guide complete with checklists of hundreds of items.)
A couple of light bulbs to check light fittings.
A lead lamp so you can check power sockets.
A cloth so you can make clean dust off the kitchen counters and vanities counters to inspect for scratches and chips.
Some boots so you can walk round the outside if its muddy.
A torch, tape measure and spirit level
A packet of dots in case the Site Supervisor's supply runs out.
A camera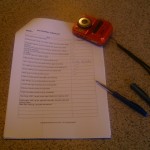 Also make sure the supervisor will have a ladder, or bring your own.
What you won't be able to check
Most builders don't fit Appliances and the Hot Water Service until handover to prevent theft.
Remember to check these on Handover Day.
Also it won't be clean!
Why not buy the PCI Guide for more advice and extensive checklists….only $4