7 Best Pool Cover Ideas to Protect the Pool for the Whole Winter
Guest Post By Ghani
Having a private pool comes with numerous benefits.
One of the benefits of having a home swimming pool is that you can get it customized to your liking.
It also gives you the opportunity to exercise at your most convenient time, and even a great thing to have in your home during the hot summers, as it makes it easy and quick to cool off.
Also, swimming pools can significantly increases the value of a home and enhance curb appeal.
Having a pool also comes with the responsibility of maintaining and cleaning it. One of the home pool maintenance tips is getting a pool cover.
What are Pool Covers, and why do we need them in winters?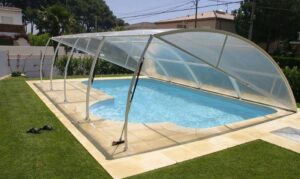 Pool covers protect the surface of a swimming pool, reducing evaporation from the pool, reducing water bills.
It also eliminates the need for constant cleaning to remove debris and leaves from the pool and helps maintain comfortable pool temperatures and save on energy bills.
Pool covers are particularly useful during winters for several reasons.
They prevent the growth of algae, which is more likely to take place during this time, and maintain an adequate water balance hence avoiding the damage of the pool surface.
Leaving your pool uncovered during winter can cause stewing to the pool's bottom and cause injuries to the users.
Best Pool Cover Ideas that you should know
There are different types of pool covers that you could use for your home pool.
They have different properties and are designed to protect your pool from different things.
Be it evaporation, debris, maintaining the temperature, and so on. Here are the different types of pool covers you can use for your home pool.
1. Plexiglass pool covers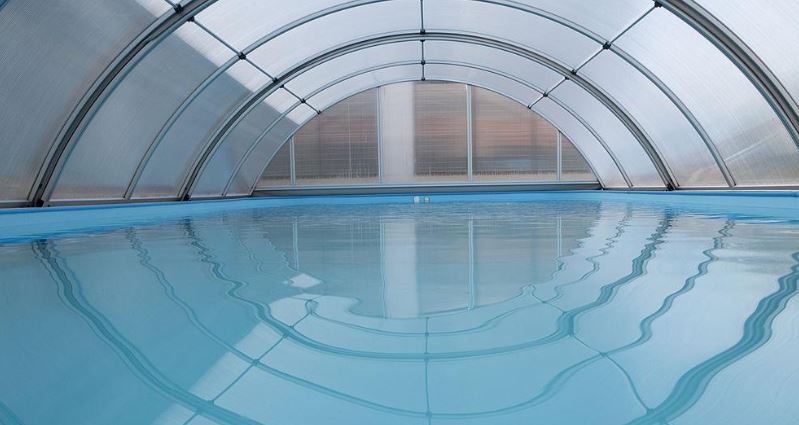 Plexiglass pool covers are increasingly becoming popular in homes for their many benefits.
Plexiglass is UV resistant, and it protects the tiles against UV rays, which can fade the tiles.
They are also resistant to extreme temperatures like during winter, preventing the freezing of the pool water and maintaining comfortable temperatures.
Tinted acrylic is 17 times stronger than glass making it the strongest material for the job.
With plexiglass pool covers, you can walk over the pool without the worry of the cover breaking.
It is also transparent, giving a beautiful view of the swimming pool.
The only drawback of Plexiglass is that it tends to scratch easily; you should, therefore, avoid harsh abrasives when cleaning the cover.
2. Thermal covers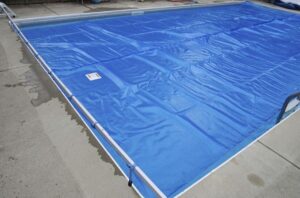 Thermal pool covers are made of extra foam layers, and as the name suggests, they maintain the water temperature.
However, the insulating foam layers only prevent heat loss and evaporation when used during the hot seasons.
Contrary to what people might expect, they are not opaque.
It is important to note that they don't heat water.
Thermal pool covers are also durable, but you cannot walk on them like plexiglass.
3.Solar Cover for Pools
As much as they are called solar covers, these covers can be used during winter too.
These are made with thick plastic, and they resemble the bubble packaging material.
They possess insulating properties and can maintain the temperature of the pool during winter and save on energy costs.
They are transparent, pretty affordable, but unfortunately, they cannot hold weight.
4. Automatic covers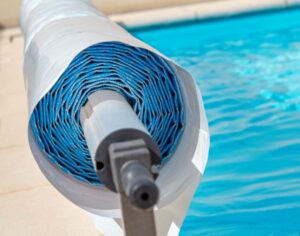 Different materials can be used to make these, be it plastic sheets or plexiglass.
The advantage of automatic covers is that it will save you the trouble of setting it up, which is usually very tiring.
They are easy to use, but that comes at a cost. 
Automatic covers, regardless of the material, are expensive, and they are not compatible with all pools.
5. Winter covers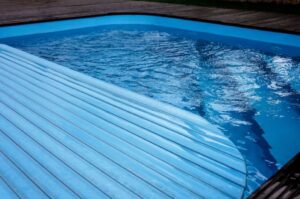 These are designed to protect the pool during winter.
They are leak-proof and will protect the pool from all the elements.
Also, they block the sunlight, which prevents the growth of algae in the pool.
Depending on the material you choose, winter covers can hold the weight of a person. 
6. Debris covers
These are useful if you are not using your pool during winter.
They don't have insulating properties as they only protect the pool water from debris. 
Debris covers are usually made of mesh materials that prevent leaves, pests, and other objects from entering the pool.
The drawback of these covers is that they don't insulate, and they cannot hold weight. 
7. Hidden covers
As the name suggests, when drawn, these covers are not visible.
This makes the pool area appealing even when they are not in use. 
Hidden covers can be insulating, solar covers, and debris cover, to mention a few. The only drawback is on the price tag.
The  choice recommended by experts
The most recommended pool covers are ones made of acrylic.
They have insulating properties, protect against UV rays, these are sturdy, durable, glossy, and look elegant.
All your pool covering needs can be taken care of by this type of pool cover.