Wall Length – Standard Bricks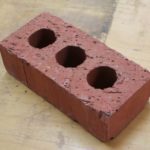 If you are looking designing at a floor plan it can be useful to think about planning the walls based on brick size.
The table below is based on 'Standard Bricks' of 230mm x 110mm x 76mm with 10mm joints.
It provides both the wall lengths, and the opening sizes.
| | | |
| --- | --- | --- |
| Bricks | Wall Length (mm) | Openings Width (mm) |
| 1.5 | 350 | |
| 2.0 | 470 | 490 |
| 2.5 | 590 | |
| 3.0 | 710 | 730 |
| 3.5 | 830 | |
| 4.0 | 950 | 970 |
| 4.5 | 1,070 | |
| 5.0 | 1,190 | 1,210 |
| 5.5 | 1,310 | |
| 6.0 | 1,430 | 1,450 |
| 6.5 | 1,550 | |
| 7.0 | 1,670 | 1,690 |
| 7.5 | 1,790 | |
| 8.0 | 1,910 | 1,930 |
| 8.5 | 2,030 | |
| 9.0 | 2,150 | 2,170 |
| 9.5 | 2,270 | |
| 10.0 | 2,390 | 2,410 |
| 10.5 | 2,510 | |
| 11.0 | 2,630 | 2,650 |
| 11.5 | 2,750 | |
| 12.0 | 2,870 | 2,890 |
| 12.5 | 2,990 | |
| 13.0 | 3,110 | 3,130 |
| 13.5 | 3,230 | |
| 14.0 | 3,350 | 3,370 |
| 14.5 | 3,470 | |
| 15.0 | 3,590 | 3,610 |
| 15.5 | 3,710 | |
| 16.0 | 3,830 | 3,850 |
| 16.5 | 3,950 | |
| 17.0 | 4,070 | 4,090 |
| 17.5 | 4,190 | |
| 18.0 | 4,310 | 4,330 |
| 18.5 | 4,430 | |
| 19.0 | 4,550 | 4,570 |
| 19.5 | 4,670 | |
| 20.0 | 4,790 | 4,810 |
| 20.5 | 4,910 | |
| 21.0 | 5,030 | 5,050 |
| 21.5 | 5,150 | |
| 22.0 | 5,270 | 5,290 |
| 22.5 | 5,390 | |
| 23.0 | 5,510 | 5,530 |
| 23.5 | 5,630 | |
| 24.0 | 5,750 | 5,770 |
| 24.5 | 5,870 | |
| 25.0 | 5,990 | 6,010 |
NB. Maximum dimension between Articulation Joints is 6.00 (see this link: Articulation Joints)
For Wall Heights see this link: Wall Height