Insulation Basics – Reflective Finishes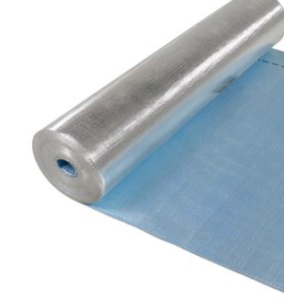 There are a number of insulation products with reflective surfaces now available but how do they work?
Why do the instructions tell you to put the more reflective surface on the underside rather that the top?
Here is some information to help you understand what's happening.
All surfaces have different levels of ability to reflect heat with black and matt finishes being very poor and shiny metal surfaces being very good. Most reflective surfaces are also poor emitters of heat. This characteristic is called emissivity (normally written as 'e').
An example is clean aluminium foil has an 'e' value of around 0.03. This is much less than common building materials such as:
bricks 'e' = 0.9 ; or
Building membrane 'e' = 0.5
Low emissivity finishes are generally considered to have an 'e' value of less than 0.05.
As dust can increase emissivity by 0.25 Aluminium foil is only considered to be low emissivity on vertical surfaces or the underside of a inclined or horizontal surface such as a roof or ceiling, where it will remain clean.
The emissivity acts with the surface layer of air on the building material to give an overall R value for the surface.
The following table shows how the 'R' values increase with a Reflective (low emissivity) surface compared with a high emissivity surface.
Cavity Width

Direction of

Heat Flow

Low Emissivity

R value

High Emissivity

R value

Horizontal

Up

0.23

0.11

Down

0.8

0.16

Sloping 45 degrees

Up

0.24

0.11

Down

0.39

0.13

Vertical

Horizontal

0.3

0.12
You will see that low emissivity insulation such as aluminium ceiling insulation has better performance (Higher R values) when the the Hotter air is above the insulation than the reverse.
This means that in summer it resists heat during the day but allows the house to cool more quickly at night. In winter, however the performance in keeping the heat in the house will not be as good.
See Insulation for similar Posts
For Posts about Green Building see Sustainability