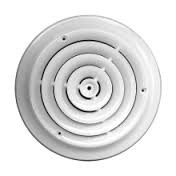 Most builder's standard heating system to homes where mains gas is available is Ducted Gas Central Heating.
This has the following advantages:
Low running costs.
Relatively cheap to install.
Feels warm fairly quickly.
Leaves the walls free for furniture, if you have ceiling vents.
If you upgrade the duct size refrigerated cooling can be added using the same ducts.
Disadvantage include:
Can be noisy.
Any allergies can be made worse due to the high levels of air movement disturbing dust.
When doors are shut (for example bedrooms), it stops circulation of air back to the central intake point. The heating then becomes less effective in those rooms.
If you decide to choose ducted heating I would reccomend you go for at least three zones. This will allow you to save money by only heating the rooms you are using.
At our last house our zones were:
Kitchen/Family Room, Lounge and Hall (The thermostat was mounted in the family room. If you want it in different  location you need to tell the builder)
Master Bedroom.
Other Bedrooms and Study.
You should check how many of the zones can be served by the unit at the same time.
This post is based on a section of the E-Book 'Guide to Selection / Pre Start' available at the following link:  anewhouse Guides