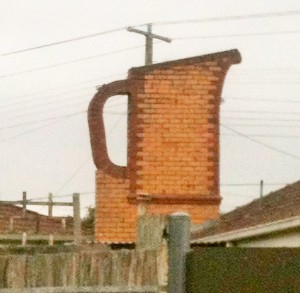 I saw this whimsical chimney while I was out and about in Melbourne's South East Suburbs the other day.
It was on a 1930 house with a few Art Deco features.
It certainly made me smile!
Sorry about the picture quality but it was take with a basic phone camera from a considerable distance on a dull day.
I have since found out the chimney was in fact a 'Secret Sign' as this house was a "Sly Grog Shop' (where you could get a beer when pubs had to shut on a Saturday)
For more Unusual House Photos, and Fails, have a look at: What the………………….?